History
Master's Degree | Russellville Campus | In-Person
The Master of Arts in History program at Arkansas Tech University is designed to provide advanced historical study for students who plan eventually to pursue the doctoral degree in history as well as for those who intend to pursue careers in teaching, law, journalism, business, government, public service, or the private sector.
This program does not require a GRE score and offers flexible delivery to make it easy for students. This includes video conference of courses if needed.
The program offers primary areas of concentration in Modern European History and United States History. Students must seek a secondary area of concentration in either Modern European History, United States History, World History or Public History.
The graduate faculty members maintain a supportive academic environment that enables them to interact closely with the graduate students.
HANDS-ON LEARNING opportunities
Internships

Make professional presentations

Pursuit of scholarly publications
SKILLS YOU WILL LEARN
How to conduct scholarly research in history

Learn professional aspects of the discipline

Mastery of history concentration
About This Degree
TUITION
In-State: $292 per credit hour
Out-of-State: $584 per credit hour
Students living in states bordering Arkansas receive in-state tuition.
Financial Aid is available for those who qualify. The Arkansas Tech University school code to use on the FAFSA is 001089.
Payment Options:
Financial Aid
Payment Plan
Graduate Assistantships
CAREER OPTIONS
You could work as a(n):
Researcher

Analyst

Political Advisor

College Professor
Alumni of our program work at:
US Marshal's Museum in Fort Smith
Republican Party of Arkansas
Walmart Foundation
ACADEMIC INFORMATION
View the links below to better understand the courses, the course timeline, and who your faculty will be when you enroll as an ATU student.
Credentials that stack with this degree:
Law School (external)

Ph.D. in History (external)
Point of Pride
Our faculty members have strong teaching and research backgrounds, each holding advanced degrees from noted universities.
IT'S TIME TO STEP UP
Find out how we will empower you to meet every challenge head-on.
More information about the M.A. in History
Program Director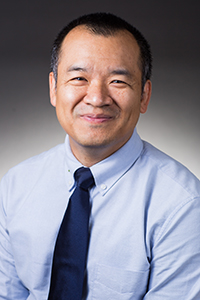 Dr. Goulin Yi
Assistant Professor, History & Political Science
Witherspoon Building, Room 253
407 West Q Street
Russellville, AR 72801

Phone: (479) 968-0265
Email: gyi@atu.edu