Welcome to Travel Services for Arkansas Tech University. We offer information on travel policies, procedures, and customer service to assist the university community in navigating the travel planning and reimbursement process. This includes business, educational, athletic, and international travel. Our goal is to assist faculty, staff, and students as we support the Tech mission of providing opportunities for progressive, intellectual development and civic engagement. We offer training opportunities online, in-person, and by audit travel documents.

Please note: Travel Services is not a travel agency, but is responsible for auditing submissions for compliance with State and University regulations and providing guidance and training to our campuses.
News & Announcements
Updated Car Rental Procedures Now Available! Please see the Rental Car page for instructions on how to complete an Enterprise rental vehicle reservation using ATU's dedicated Enterprise portal.
WEX Fuel Cards available in the Purchasing Office. Click here for more information.
Newly Released Travel Services Training and Reference Packet! Travel Services has compiled an updated training and reference packet available online for view and download. Check it out under the Training page or click here to view.
As part of the Arkansas Tech University restructuring plan, the ATU motor pool rental vehicle fleet will be discontinued June 30, 2021. Beginning July 1, 2021, the ATU rental fleet, cars and vans including the 28-passenger busses and motor coach bus, will no longer be available for rental by departments.
As ATU moves away from the use of university-owned vehicles, it will be utilizing both the State of Arkansas mandatory Enterprise rental car contract and personal mileage reimbursement more frequently. In anticipation of this, the ATU Office of Travel Services is preparing various online resources to aid in the booking of rental cars and vans.
Travel Requisition and TR-1 Submission Tips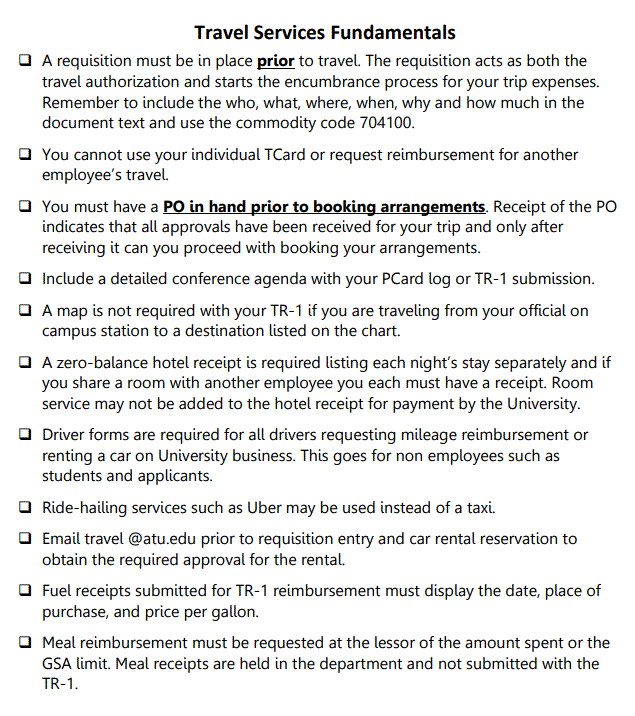 Are you a Non-State Employee or an Applicant traveler?

Visit our resources page for information about guidelines and the forms needed for your travel.
State of Arkansas Travel Regulations
Current Procurement and Travel Services Newsletter
requisition entry quick reference
TR-1 and Requisition Entry Tips
Travel Guidelines
Contact Travel Services