Welcome to Travel Services for Arkansas Tech University. We offer information on travel policies, procedures, and customer service to assist the university community in navigating the travel planning and reimbursement process. This includes business, educational, athletic, and international travel. Our goal is to assist faculty, staff, and students as we support the Tech mission of providing opportunities for progressive, intellectual development and civic engagement. We offer training opportunities online, in-person, and by audit travel documents.

Please note: Travel Services is not a travel agency, but is responsible for auditing submissions for compliance with State and University regulations and providing guidance and training to our campuses.
News & Announcements
Updated Index Codes for Academic Affairs Departments Effective July 1, 2022

In support of the upcoming academic restructuring, new budget index codes have been established for departments within each college. The new codes will be effective July 1, 2022. We ask that the departments begin using the new codes July 1, 2022 on all documents that require an index. Examples include purchasing and travel requisitions, post office charge slips, FAMA project requests, budget transfer requests, student labor requests, etc. Unfortunately any use of former codes will result in automatic document cancellation and resubmission by the user will be needed. There have been some changes to organization codes. Please pay particular attention to this information on the updated idex list that has been provided to AA users. If your organization has changed, be sure to use the new number where required such as PCard logs or FAMA project request forms. Closing of FY 21-22
Closing of Fiscal year 21-22
As we approach the end of FY 2022, please keep these dates in mind, and contact our offices with any questions.
Deadline

Action

May 3, 2022

Bid items $20k and above submitted to Procurement

June 3, 2021

Requisitions due in Procurement and Travel. Requisitions entered after June 3, must include name of class, camp, or conference in the document text. Failure to do so will result in cancellation of requisition.

June 10, 2022

Last Day for PCard purchases

June 10, 2022

TR-1s submitted to Travel. Any travel completed between June 11 and June 30 must be submitted on a separate TR-1.

June 17, 2022

Invoices and approved POs submitted to Accounts Payable
Mileage Change!
Effective immediately, due to increasing gas prices, the State of Arkansas has temporarily increased the maximum authorized rate of mileage reimbursement for the use of privately-owned motor vehicles on official business of the state to 52 cents per mile.
Reimbursement for travel performed on or after March 17, 2022, is authorized at the new temporary rate of 52 cents per mile until further notice. Reimbursement for any travel before March 17, 2022, is authorized at the rate of 42 cents per mile.
Arkansas Tech University is implementing this temporary change in alignment with State of Arkansas policy.
The State of Arkansas Office of Accounting will continue to monitor average gasoline prices and the reimbursement rate will be re-evaluated for possible reduction when the average gasoline price declines below $3.50 per gallon.
For more information, contact the ATU Office of Travel Services at (479) 356-6209 or travel@atu.edu.
Updated Car Rental Procedures Now Available! Please see the Rental Car page for instructions on how to complete an Enterprise rental vehicle reservation using ATU's dedicated Enterprise portal.
WEX Fuel Cards available in the Purchasing Office. Click here for more information.
Newly Released Travel Services Training and Reference Packet! Travel Services has compiled an updated training and reference packet available online for view and download. Check it out under the Training page or click here to view.
As part of the Arkansas Tech University restructuring plan, the ATU motor pool rental vehicle fleet will be discontinued June 30, 2021. Beginning July 1, 2021, the ATU rental fleet, cars and vans including the 28-passenger busses and motor coach bus, will no longer be available for rental by departments.
As ATU moves away from the use of university-owned vehicles, it will be utilizing both the State of Arkansas mandatory Enterprise rental car contract and personal mileage reimbursement more frequently. In anticipation of this, the ATU Office of Travel Services is preparing various online resources to aid in the booking of rental cars and vans.
Travel Requisition and TR-1 Submission Tips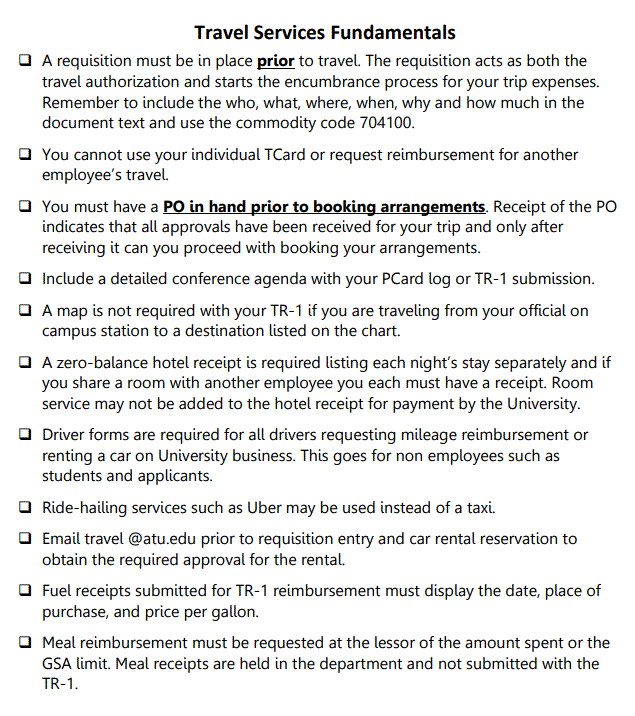 Are you a Non-State Employee or an Applicant traveler?

Visit our resources page for information about guidelines and the forms needed for your travel.
State of Arkansas Travel Regulations
Current Procurement and Travel Services Newsletter
requisition entry quick reference
TR-1 and Requisition Entry Tips
Travel Guidelines
Contact Travel Services