Welcome to Travel Services for Arkansas Tech University. We offer information on travel policies, procedures, and customer service to assist the university community in navigating the travel planning and reimbursement process. This includes business, educational, athletic, and international travel. Our goal is to assist faculty, staff, and students as we support the Tech mission of providing opportunities for progressive, intellectual development and civic engagement. We offer training opportunities online, in-person, and by audit travel documents.

Please note: Travel Services is not a travel agency, but is responsible for auditing submissions for compliance with State and University regulations and providing guidance and training to our campuses.
News & Announcements
Mileage Change!
Effective immediately, due to increasing gas prices, the State of Arkansas has temporarily increased the maximum authorized rate of mileage reimbursement for the use of privately-owned motor vehicles on official business of the state to 52 cents per mile.
Reimbursement for travel performed on or after March 17, 2022, is authorized at the new temporary rate of 52 cents per mile until further notice. Reimbursement for any travel before March 17, 2022, is authorized at the rate of 42 cents per mile.
Arkansas Tech University is implementing this temporary change in alignment with State of Arkansas policy.
The State of Arkansas Office of Accounting will continue to monitor average gasoline prices and the reimbursement rate will be re-evaluated for possible reduction when the average gasoline price declines below $3.50 per gallon.
For more information, contact the ATU Office of Travel Services at (479) 356-6209 or travel@atu.edu.
Updated Car Rental Procedures Now Available! Please see the Rental Car page for instructions on how to complete an Enterprise rental vehicle reservation using ATU's dedicated Enterprise portal.
WEX Fuel Cards available in the Purchasing Office. Click here for more information.
Travel Requisition and TR-1 Submission Tips
Current Newsletter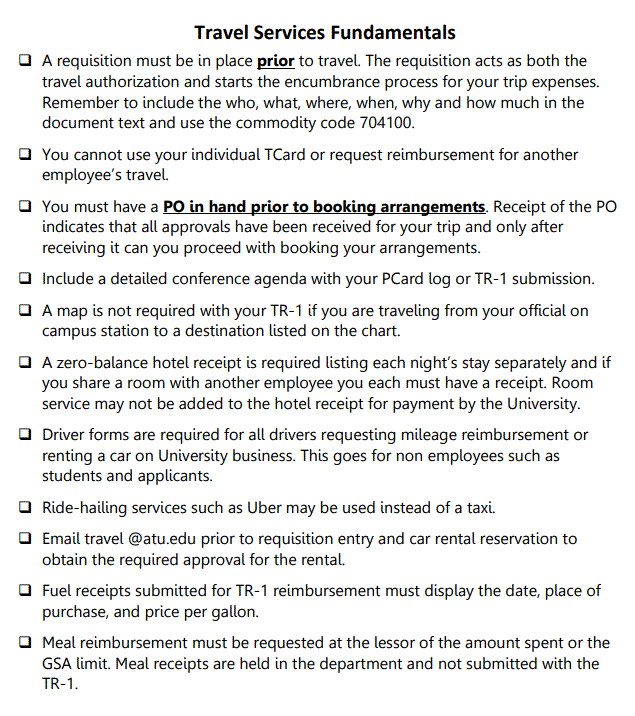 Are you a Non-State Employee or an Applicant traveler?

Visit our resources page for information about guidelines and the forms needed for your travel.
+
State of Arkansas Travel Regulations
requisition entry quick reference
TR-1 and Requisition Entry Tips
Travel Guidelines
Contact Travel Services