Welcome to Travel Services for Arkansas Tech University. We offer information on travel policies, procedures, and customer service to assist the university community in navigating the travel planning and reimbursement process. This includes business, educational, athletic, and international travel. Our goal is to assist faculty, staff, and students as we support the Tech mission of providing opportunities for progressive, intellectual development and civic engagement. We offer training opportunities online, in-person, and by audit travel documents.

Please note: Travel Services is not a travel agency, but is responsible for auditing submissions for compliance with State and University regulations and providing guidance and training to our campuses.
News & Announcements
WEX Fuel Cards available in the Purchasing Office. Click here for more information.
Current Newsletter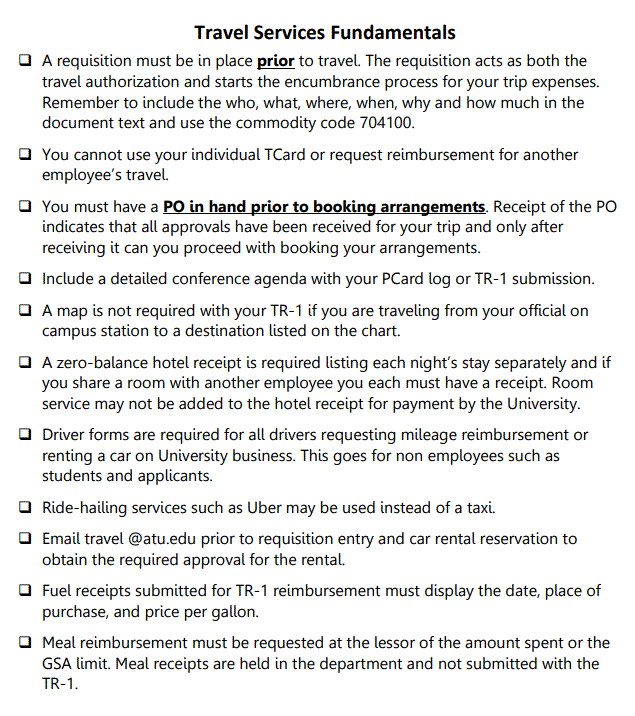 | | | |
| --- | --- | --- |
| EMPLOYEE TRAVEL | INTERNATIONAL TRAVEL | Athletic TRAVEL |
Are you a Non-State Employee or an Applicant traveler?

Visit our resources page for information about guidelines and the forms needed for your travel.
+
State of Arkansas Travel Regulations
Requisition Entry Quick Reference
TR-1 and Requisition Entry Tips
TRAVEL CARD
The Travel Card Program provides travelers a safe, effective, convenient, and commercially available method to pay for expenses incidental to official travel, including local travel.
Learn More
Before you travel:
Seek approval to travel from your department head, dean, or V.P.
Search for flights that would correspond with days traveling.
Seek rental car approval if necessary.
Create a requisition to Bank of America for any lodging, flight, or car rental placed on the TCard with the following information:

Traveler name(s)
Destination of travel
Reason for going
Dates of travel

Create a requisition to your T number for any allowable expenses that you will incur on your personal credit card with the following information:
Traveler name(s)
Destination of travel
Reason for going
Dates of travel
Estimated total for each of the following: Lodging (if applicable), baggage, taxi, parking, meals, mileage.
During your trip:
Keep all itemized receipts for all expenses.
Obtain "zero balance" hotel bill upon check-out.


Student Groups
All itemized receipts must be obtained for student groups including meal receipts.
Students must sign a log if cash is received for meals. The log will serve as a receipt for reimbursement and should be submitted with the completed TR1.
When you return:
Verify your meal amounts on the GSA per diem chart.
Complete a TR-1 with any of the following necessary information

Lodging
Flight
Meals
Mileage
Shuttle
Parking
Taxi
Baggage
Incidentals

Attach all receipts from your travel for reimbursement. Meal receipts are not required.
Seek approval of your TR-1 from your Dept. Head, Dean or V.P.
Submit your TR-1, receipts, and any additional paperwork to Travel Services
Travel Services will be in contact via email or phone with any questions about your documentation.
Contact Travel Services

404 N El Paso
Russellville, AR 72801