General Education
Teaching Resources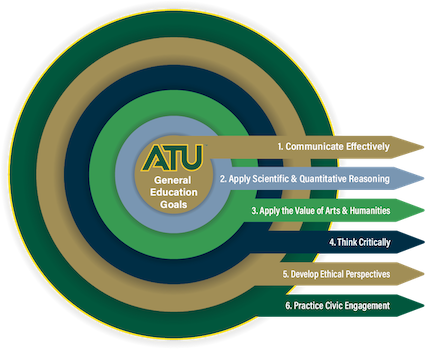 ETHICAL PERSPECTIVES
Diversity, Equity, and Inclusion
Upcoming teaching workshops on Diversity, Equity, and Inclusion

(coming soon)
CIVIC ENGAGEMENT
What constitutes civic engagement in an ATU General Education course? Only two components are needed:
1. The course leaves the confines of the classroom in some manner. (Example: an assignment where students must observe/attend/create something outside of the confines of the classroom.
2. The course shares their creation/observation outside of the classroom. (Example: the assignment - or a synthesis of the assignment - is shared with someone outside of the confines of the classroom.)
Civic Engagement Assessment
ARTS AND HUMANITIES
Arts and Humanities Assessment
Thinking Critically
Thinking Critically Assessment


Please use the form below to submit teaching resources for General Education.
To submit resource files
Please complete the form above, noting in the Submission space that you are emailing resource files.
Send an email with attachments to generaleducation@atu.edu. In the subject line, include which general education goal the resource(s) pertain to.
RETURN TO GENERAL EDUCATION HOME PAGE