VICE PRESIDENT FOR ADMINISTRATION AND FINANCE
The Board of Trustees of Arkansas Tech University and President Dr. Robin E. Bowen invite nominations and expressions of interest for the position of vice president for administration and finance. It is anticipated that the successful candidate will take office on or before July 1, 2021. ATU is utilizing shared governance and distributed leadership during fiscal year 2021 to develop a restructuring initiative and position the institution for continued financial stability. Outcomes of the initiative will include a five-year budget plan. The successful vice president for administration and finance candidate will be responsible for leading the implementation of that five-year plan in fiscal year 2022 and beyond.


The University
What does it mean to be first?
At Arkansas Tech University, being first is about forging a personalized path to academic and personal achievement with the support of faculty and staff who make student access and success their No. 1 priority.
As a result, ATU is first in the Natural State when it comes to providing access to a better life after graduation.
ATU has been ranked No. 1 in Arkansas on CollegeNET's Social Mobility Index seven consecutive years through 2020. The annual rating is an indicator of a university's success in providing graduates with a pathway to an enhanced economic standing.
Arkansas Tech is recognized as a statewide leader in STEM education. Students explore intersecting career paths made possible by more than 120 undergraduate degree programs and more than 25 graduate degree options.
More than 93 percent of ATU students are Arkansans, and three of every four ATU graduates remain in Arkansas to apply what they have learned and help further develop the state's economy.
The Russellville campus of Arkansas Tech University is nestled in the heart of the Arkansas River Valley, between the Ozark and Ouachita Mountains. It is approximately 75 miles from Little Rock and near Lake Dardanelle State Park as well as Mount Nebo State Park.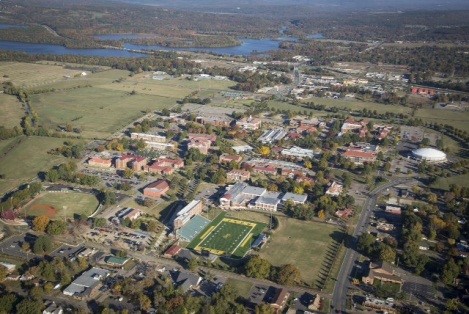 With a population of 27,920, the City of Russellville is home to both Arkansas
Tech University and Arkansas Nuclear One, Arkansas' only nuclear power plant.

Arkansas Tech (originally the Second District Agricultural School) was founded by Act 100 of the 37th Arkansas General Assembly. The act was signed into law by
Gov. George Donaghey on April 1, 1909.
By the fall of 1922, the Second District Agricultural School was offering college-
level classes. The changing mission of the institution led to a new name for the
Russellville campus. Governor Thomas J. Terral signed a bill on Feb. 10, 1925, that
changed the name to Arkansas Polytechnic College and the campus offered two
year associate degrees until after World War II. High school classes were offered
on the campus until 1930.
In May 1948, the Tech Board of Trustees approved a recommendation that Arkansas Polytechnic College should become a four-year, degree-granting institution. The four-year college program at Arkansas Tech was accredited by the North Central Association of Colleges and Secondary Schools in March 1951.
In 1976, Arkansas Polytechnic College began offering work toward a master's degree. In accordance with the evolving mission of the college, the name was changed to Arkansas Tech University on July 1, 1976.
Arkansas Tech-Ozark Campus, located 40 miles to the west of Russellville,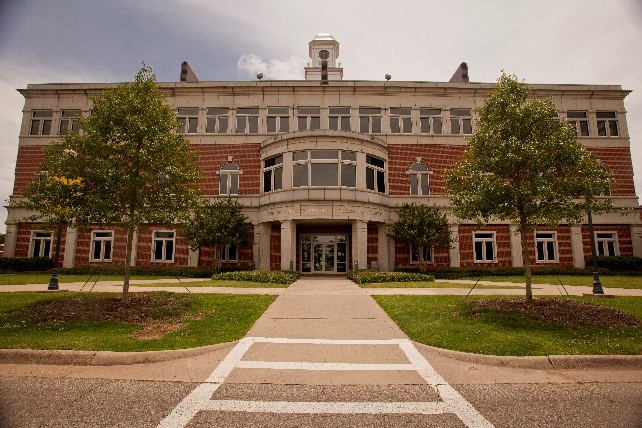 became a part of Arkansas Tech University on July 1, 2003.
ATU-Ozark offers more than 25 academic programs and serves students seeking workforce education and associate's degrees. The 26-acre campus is located on Highway 23 North. Partnerships with local industry are among the strengths of the Ozark campus. The campus also hosts Leadership Franklin County, a non-profit organization that serves the residents of Franklin County. Enrollment now tops 1,900 students. Arkansas Tech-Ozark also has oversight of the Arkansas Tech Career Center in Russellville and its satellite locations in Clarksville, Danville, Ozark and Paris.
Dr. Robin E. Bowen has served as president at ATU since July 1, 2014. Her presidency has included the adoption of a new strategic plan that was formulated through a highly participatory process that engaged faculty, staff, students, alumni and community members. The strategic planning process led to the first comprehensive campus master plan in university history.
ATU has also created and implemented new mission and vision statements during the Bowen administration as well as a strategic plan for inclusive excellence.
Headcount enrollment at ATU for fall 2020 is 10,866. Arkansas Tech serves 10,137 undergraduate students and 729 graduate students. ATU is the third-largest university in Arkansas.
Significant progress has been made toward greater salary equity for employees,

increased numbers of faculty and staff members and a greater sense of "one university" between the Russellville campus and the Ozark campus. Grit and distributed leadership are themes of the Bowen administration, and professional development for faculty and staff through the Leadership Tech program is a point of emphasis.
Distributed leadership and shared governance are principles that Dr. Bowen believes in and implements in the day-to-day administration of the university as well as in larger initiatives such as strategic planning and problem solving. This leadership style requires high levels of trust, transparency and mutual respect.
In addition, it is not a zero sum equation where developing leadership of followers diminishes the power/authority of formal leaders, but where each mutually reinforces the other.
On a functional level, Dr. Bowen's style of leadership means generating ideas together, seeking to reflect upon and make sense of work in the light of shared beliefs and new information and creating actions that grow out of these new understandings.
Vibrant Student Life

While academic achievement leading to graduation is the reason for attending Arkansas Tech University, the experiences that students have outside the classroom prove to have a lifelong impact. Experiences offered through the ATU Division of Student Affairs enhance maturity, leadership, time management, friendship, career development and civic engagement, along with many other essential life skills. Tech offers more than 170 social and professional organizations for students.
In November 2020, Arkansas Tech completed and opened a new 17,000 square foot student union inside the Hull Physical Education Building on the Russellville campus. The venue includes a great room for programs and social activities, lounges for watching television and playing video games, a patio area with fire pit and a smoothie/gourmet coffee concept operated by ATU's food service provider, Chartwells.
Arkansas Tech offers a robust NCAA Division II athletic program and is a founding member of the Great American Conference. Tech has won the GAC All-Sports Trophy as the top overall program in the conference six times since 2012, and ATU's Wonder Boys and Golden Suns have ranked No. 1 in the nation in student-athlete volunteer service hours for two consecutive years.
Strategic Plan
Arkansas Tech University will be in the final year of its current strategic plan during fiscal year 2022. Leaders at all levels of the institution will soon be engaged in the development of a new strategic plan.
Information about ATU's strategic plan and progress that has been made in pursuit of its strategic goals over the past five years is available at www.atu.edu/strategicplanning.
The Leadership Agenda
The successful candidate will assume membership on the ATU Executive Council.
Collaboration with the budget advisory committee and other colleagues on the development of the annual university budget provides this position with a platform to serve as a campus-wide leader. Arkansas Tech University is operating under a $169.5 million budget during fiscal year 2021. Of that budget, 19.2 percent is derived from state appropriations.
Operating areas that will report to the vice president for administration and finance are accounting, financial control, procurement, facilities management, human resources, student accounts, budgets, payroll, construction, and residence hall facility maintenance. The vice president will also be a key liaison to various campus vendors, including food service and the bookstore. An understanding that student access, success and retention are the No. 1 goals of the institution and a demonstrated track record of support for diversity and inclusion in higher education will be essential characteristics of the successful candidate.

The Application Process
To ensure full consideration by the search committee, completed applications are due by February 15, 2021. For a completed application, candidates are required to submit:
A cover letter specifically addressing this position
A current resume or CV
Contact information for three or more professional references.
The application must be submitted through the ATU website, via the HR application here. Please direct any confidential nominations or inquiries to the Chair of the Search Committee:
Jason L. Geiken, MBA
Vice President, Institutional Advancement
Office: 479.964.0840
Email: JGeiken@atu.edu
This position is subject to a pre-employment criminal background check. A criminal conviction or arrest pending adjudication alone shall not disqualify an applicant in the absence of a relationship to the requirements of the position. Background check information will be used in a confidential, non-discriminatory manner consistent with state and federal law. AA/EOE.
---
THE BELOW NOTICE IS BEING POSTED AS A RESULT OF THE FILING OF AN APPLICATION FOR PERMANENT ALIEN LABOR CERTIFICATION. ANY PERSON MAY PROVIDE DOCUMENTARY EVIDENCE BEARING ON THE APPLICATION TO THE REGIONAL CERTIFYING OFFICER OF THE U.S. DEPARTMENT OF LABOR.
Arkansas Tech University (Russellville, AR) - Assistant Professor of Statistics
Develop and teach undergraduate and graduate courses in statistics and mathematics. Facilitate development of an undergraduate and/or master's program in Applied Statistics. Effectively advise students. Engage students in high impact learning practices. Involve undergraduates in research projects or experiential learning. Identify specific prospects for on-campus collaboration with other disciplines. The position carries a teaching load of 12 credit hours per semester
PhD in Statistics and two years of experience are required.
Applicants should send resume and cover letter Attn: contact Barbara Johnson, Arkansas Tech University, 1507 north Boulder Ave., Corley 112 Russellville, AR 72801-2222
---
Arkansas Tech University (Russellville, AR) - Assistant Professor of Management
Develop and teach management undergraduate and graduate courses in the College of Business. Effectively advise students. Engage students in high impact learning practices. Develop a sustainable scholarship program including seeking external funds to support the program. Provide impactful departmental, college, university, and professional service to the university, community and state
PhD in Business Administration and two years of experience are required.
Applicants should send resume and cover letter Attn: contact Barbara Johnson, Arkansas Tech University, 1507 north Boulder Ave., Corley 112 Russellville, AR 72801-2222
---
Arkansas Tech University (Russellville, AR) - Assistant Professor of Electrical Engineering
Demonstrate effective communication and interpersonal skills with students, peers, and administrators, and to develop, teach, and assist in undergraduate and master degree courses in the disciplines of Computer and Electrical Engineering.
Must be willing to serve on departmental, college, university committees, participate in professional organizations, and to provide mentoring and supervision to undergraduate and graduate students.
Must develop a sustainable scholarship program including seeking external funds to support their research program.
Must participate in the assessment processes for the overall educational goals of the departmental programs as well as individual courses.
Must assist the department and college with student recruitment and retention.
PhD in Electrical Engineering and two years of experience are required.
Applicants should send resume and cover letter Attn: contact Barbara Johnson, Arkansas Tech University, 1507 north Boulder Ave., Corley 112 Russellville, AR 72801-2222