Health and Wellness Center

The Arkansas Tech University Health and Wellness Center provides a wide range of health services, educational programming, consultation, and referral services that meet the particular needs of our students. Our staff is committed to the concepts of wellness and prevention and to providing quality treatment.
Location
Doc Bryan Student Services Center Suite 119
Current Appointment Check-in Location:
Tent at North Entrance Doc Bryan Building
Hours:
Monday - Friday 8:00 a.m. to 5:00 p.m.

Phone: (479) 968-0329
Fax: (479) 967-6610
Services during the pandemic:
Health Services and Counseling Services will remain available and telehealth services will be offered in place of many of our face to face services. Some appointments will be offered face to face as determined by our medical and counseling staff. If you are interested in scheduling an appointment or requesting a COVID-19 test please call the Health and Wellness Center at 479-968-0329.
COVID-19 Reporting form:
Please go to the link below, sign in using your OneTech username and password, and complete the #COVID-19 Reporting Form to report any of the following:
You have symptoms of COVID-19

You have been exposed to COVID-19

You have been tested for COVID-19
The ATU Health and Wellness Center will review your submission and will call you back with further instruction. Please do not come to campus until you have been advised to do so from the ATU Health and Wellness Center.
quarantine protocol:
If you have been identified as a close contact of someone who is positive for COVID-19, please complete the COVID-19 Reporting Form (see above). The CDC has released new guidelines for quarantine. The 14-day quarantine is still the safest option and recommended for all persons who are close contacts. However, if you have extenuating circumstances and would like to request an early release from quarantine, please follow these steps:
Access the Patient Portal by visiting https://atu.medicatconnect.com

Log in using your OneTech user name and password.

Under forms, complete the "Early Release from Quarantine Request".

A nurse from the HWC will call you to discuss your request and consider risk factors that may impact the decision.

Please continue to quarantine for 14 days unless you are provided a release from HWC in writing.

Early releases from quarantine are only considered for those persons who are asymptomatic each day of the quarantine since the time of exposure.

Please call the HWC if you haven't heard from a nurse within 24 hours before your requested quarantine release day.
Opting in for Texts from Us:
Please follow the steps below to opt-in to receive important text messages from the Health and Wellness Center.
Access the Patient Portal by visiting https://atu.medicatconnect.com

Log in using your OneTech user name and password.

Select your name in the top right of the screen.

From the drop-down, select Edit Your Profile.

Check the box for I would like to receive text message reminders.

Select Save.


You may also complete the Texting Opt-In/Opt-Out form on the Forms page by selecting the Form button. Complete the template to opt-in for texting.
Vaccination for employees:
Per an announcement by Gov. Asa Hutchinson on Tuesday, Jan. 12, 2021, and in accordance with Arkansas Department of Health (ADH) guidelines, Arkansas Tech University faculty and staff will be eligible to begin receiving the COVID-19 vaccine as early as Monday, Jan. 18, 2021, as part of ADH vaccination plan phase 1B.
ATU is working with local pharmacists, the City of Russellville, the Pope County Office of Emergency Management, the Pope County office for the Arkansas Department of Health and any other entities involved in the process to determine the logistics of vaccine distribution to ATU faculty and staff. We are hopeful that local pharmacies will receive the vaccine supply needed to hold a vaccination clinic on campus and more details about dates, times and locations of vaccine injections for ATU faculty and staff will be communicated as they become available.
As is the case around the state and the country, demand for the COVID-19 vaccine at Arkansas Tech University is outpacing the supply that is available in our community. Patience will be important as Arkansas Tech works with local pharmacies and governmental agencies to connect ATU faculty and staff members who wish to receive the vaccine with the most readily available supply.
ATU has not established a definitive date for a mass vaccination event but will continue to explore every avenue to make that possible. It is too early in the distribution process to know when a supply of vaccine large enough to support such an effort will be available. In the meantime, ATU faculty and staff who wish to receive the vaccine on a more expedited timeline are encouraged to contact local pharmacies and inquire about the availability of appointments. You can see the list of local pharmacies who are participating in the vaccination program here.
Please direct any questions about vaccine distribution to Heath Whorton, ATU campus emergency manager, at mwhorton1@atu.edu.
Please direct any medical questions about the vaccine to the ATU Health and Wellness Center at hwc@atu.edu.
Mass testing instructions:
Instructions After COVID-19 Mass Testing
HWC FORMS and COVID-19 REPORTING

O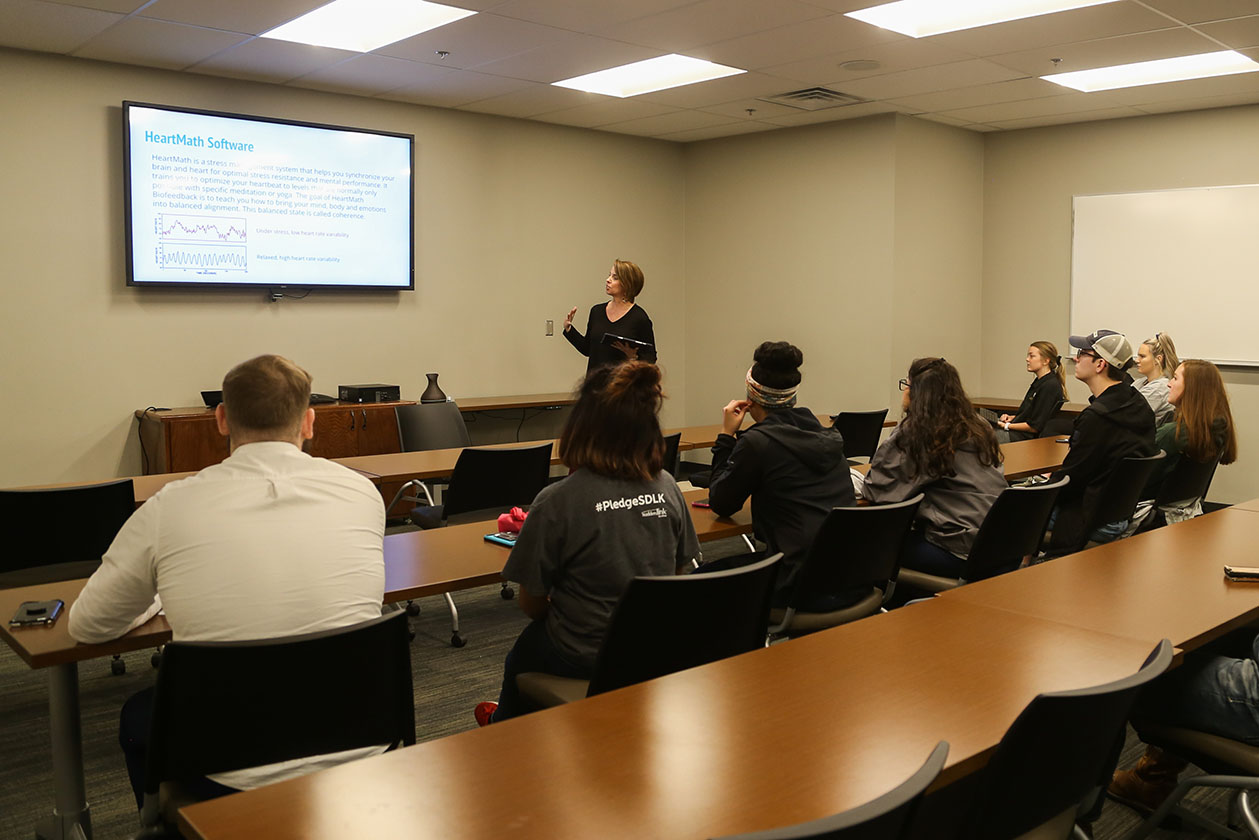 HEALTH SERVICES
The Health Center at ATU offers a wide variety of health services. Our staff is dedicated to providing students with health services that enhance their overall well-being and academic success.



COUNSELING SERVICES
The Counseling Center at ATU is dedicated to every student's well being. We strive to ensure that every student is getting the most out of their college experience. You will likely find that college can be stressful and that finding a balance between academic and personal demands will be difficult. As part of the Tech family, your well-being is our priority.
Your years at Tech are an ideal time to establish healthy behaviors that could have a positive impact on the rest of your life. We encourage you to visit the health center not only when you are unwell, but also when you have questions or concerns about any health and wellness issue.
If there are no available appointments please call 479-968-0329 or stop by Doc Bryan 119.
If there is an emergency, please call 911.
---
No Show Policy
If you are unable to keep your appointment, please call the clinic to cancel or reschedule. If you miss your appointment and did not call to cancel the appointment, a $20.00 no show charge will be added to your student account. We will allow one free pass on a missed appointment per academic year without a fee.