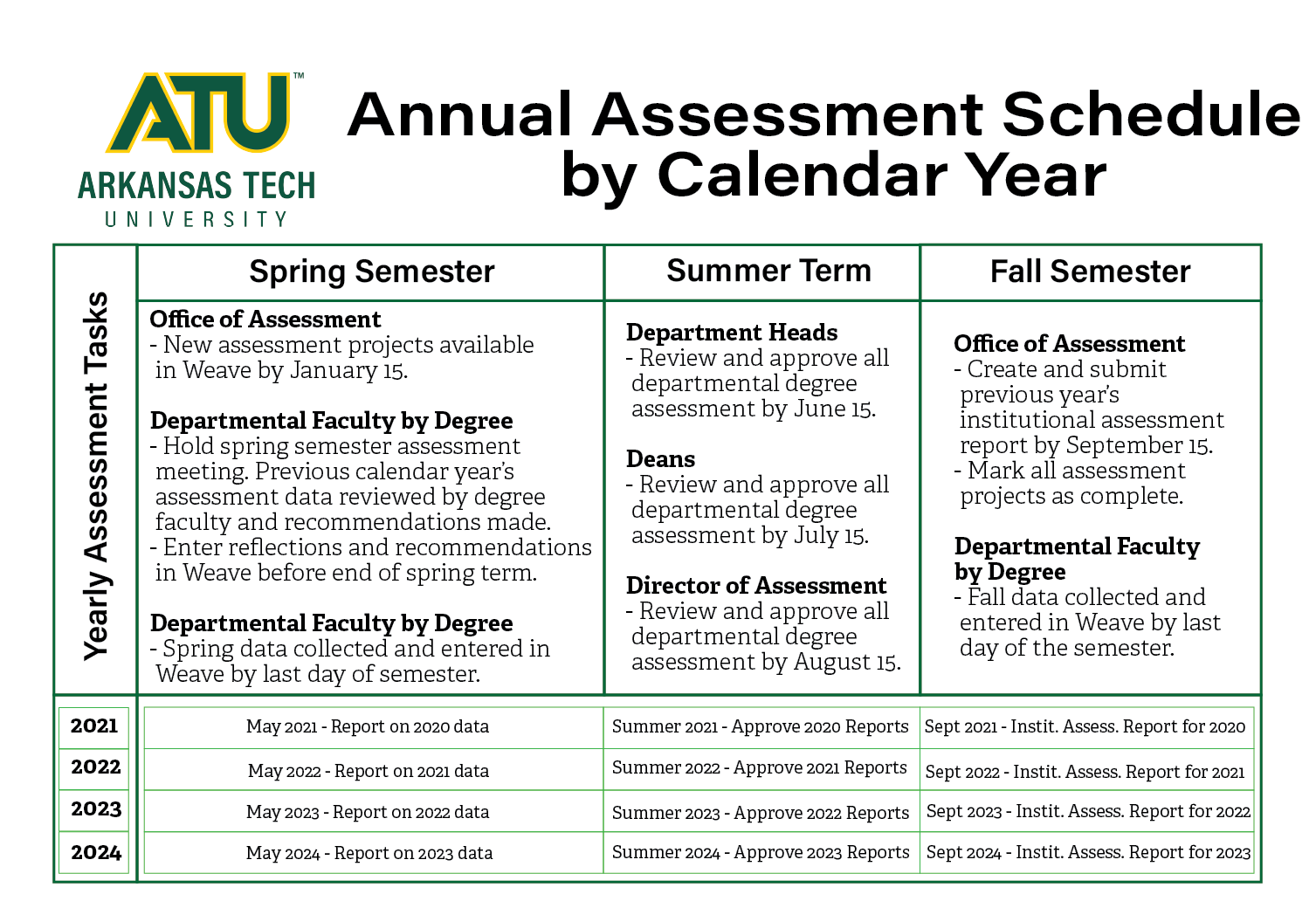 Academic Degree Programs at
Russellville Campus
annual Assessment
Academic programs follow the annual Assessment Cycle Timeline for assessment related tasks. Any questions should be addressed to the director of Assessment & Institutional Effectiveness (caustin@atu.edu).
The following links show program learning outcomes and curriculum maps (currently being added) for programs offered at the Russellville campus of Arkansas Tech University.
rEview Schedule
Arkansas Code §6-61-214 requires that the Arkansas Higher Education Coordinating Board (AHECB) review existing academic programs. All certificate and degree programs offered by public colleges and universities in Arkansas will be reviewed every 7 - 10 years. Institutional program review schedules are on file at ADHE. This Program Review Information Packet offers guidance on completion of program reviews to meet the requirements for program quality. Externally accredited program reviews are also listed here, but links to their accreditors and the standards by which they will be evaluated can be found under Accreditation on this website.

Arkansas Tech is introducing a mid-cycle Departmental Mid-point Program Review process for those programs that are reviewed on a greater than five year cycle. Programs that are reviewed by an external accreditor on less than a six year cycle or required to file yearly reports are exempt from the Departmental Mid-point Program Review process. The departmental academic program review follows a similar self-study process aided by an Internal departmental Program Review template and other resources. Additional information can be obtained by emailing Dr. Christine Austin at caustin@atu.edu