International Women's Week is a week of celebration, education, and awareness surrounding women's and gender issues. Events for the 2024 program at Arkansas Tech will be taking place March 4-8, 2024. This year's theme, is to be determined.
Arkansas Tech University began celebrating Women's Week in 2013. Campus Life, Public Safety, Academic Affairs, Health and Wellness, Title IX, and many other offices across campus collaborate each year to make this week an empowering experience for women at the university and in the Russellville community.
Over the years, we have had noteworthy speakers including:
Assistant Superintendent for Curriculum and Instruction in For Smith Public Schools - Dr. Tiffany Bone
Brigadier General - Tamhra Hutchins-Frye
Founder and CEO of Women EmpowerX - Alexa Rose Carlin
Arkansas Tech University President - Dr. Robin E Bowen
Founder and CEO of Headbands for Hope - Jessica Ekstrom
Entrepreneur and Author - Kristen Hadeed
Speaker and Life Coach - Stacy Nadeau
In 2023, we honored women by recognizing and celebrating what motivates them with our theme, Like A Girl.
Check out our past Women's Week schedule of events:
Women's Week Essay Contest
2023 wINNER - Lindsey Hover

In her essay, Lindsey states, "I want to change the way female athletes react to hearing someone say, "like a girl." Sadly, the meaning behind the phrase might not ever be anything other than an insult but, that doesn't mean girls have to take it as one.
If only when people say "you run like a girl" they were talking about Shelly- Anne Fraser- Pryce a Jamaican sprinter who won gold medals at the 2008 Beijing Olympic Games and the 2012 London Games. (Bozon,2022) In 2019, Shelly became the first mother in 24 years to win a global 100m title, in 2013 she was voted the IAAF World Athlete of the Year, and in 2014 she won the 60m world indoor title to become the first female to ever hold world titles in four sprint events at the same time. (Bozon,2022) To all the female track and field athletes, next time someone tells you that you "run like a girl" I want you to assume they're referring to Shelly-Anne Fraser - Pryce.
If only when people say you "play like a girl" they were referring to Serena Williams a professional tennis player who has won more Grand Slam singles titles than anyone else in the world (Britannica 2023) or Megan Rapinoe a professional soccer player who has won two Women's World Cups in 2015 and 2019 (Britannica 2023). There are millions of talented female athletes in the world."
She ends her essay saying, "So, next time someone says you do anything "like a girl," think of the world's greatest female athletes and take it as a compliment because, after all, you are one."
---
If you have a passion or talent for writing, we encourage you to submit your entry for the 2023 Women's Week Essay Contest. The winning essay writer will receive $250!
Topic: Consider the theme "LIKEAGIRL". Write about your interpretation of this year's Women's Week theme. This can be as broad or as focused as you want.
Deadline: TBD
Who is eligible?: All students enrolled at Arkansas Tech University.
Format: The essay should be no more than 750 words, typed, and double-spaced. Students must submit original work.
| | |
| --- | --- |
| Submit Essay via theLink | ESSAY CONTEST RULES |
Women's Week Art Exhibit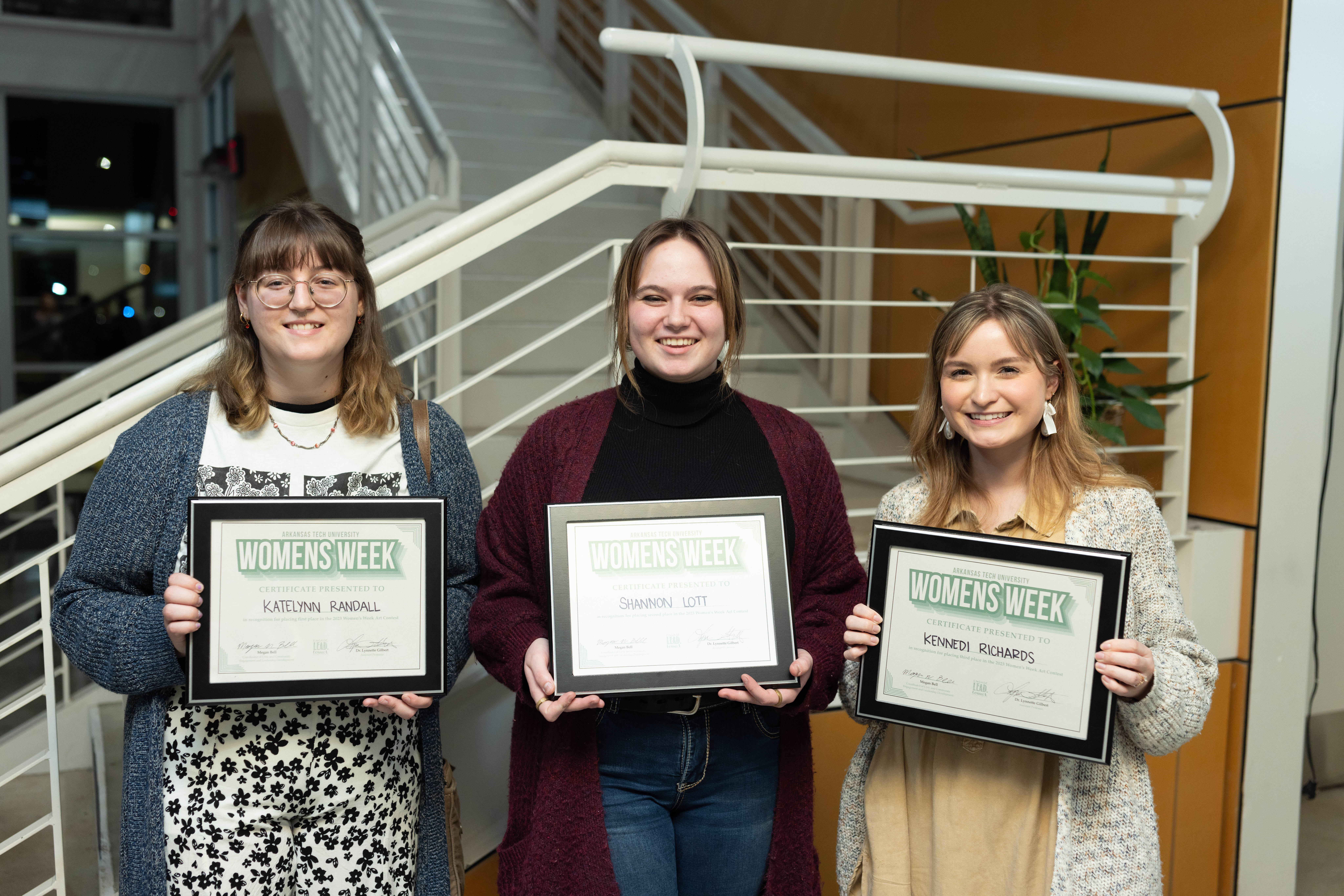 If you have a passion or talent for artistry, we encourage you to submit your entry for the 2023 Women's Week Art Exhibit. Students can submit any kind of work of art to be displayed in the Norman Hall Exhibit from March 6-10, 2023. The work will be judged throughout the week, and the winning students will be awarded prizes!
Concept: The subject matter should be about student interpretation of LIKEAGIRL. This may come from personal experience as well as social observation. Deadline: TBD
#ITSONUS - RALLY AGAINST VIOLENCE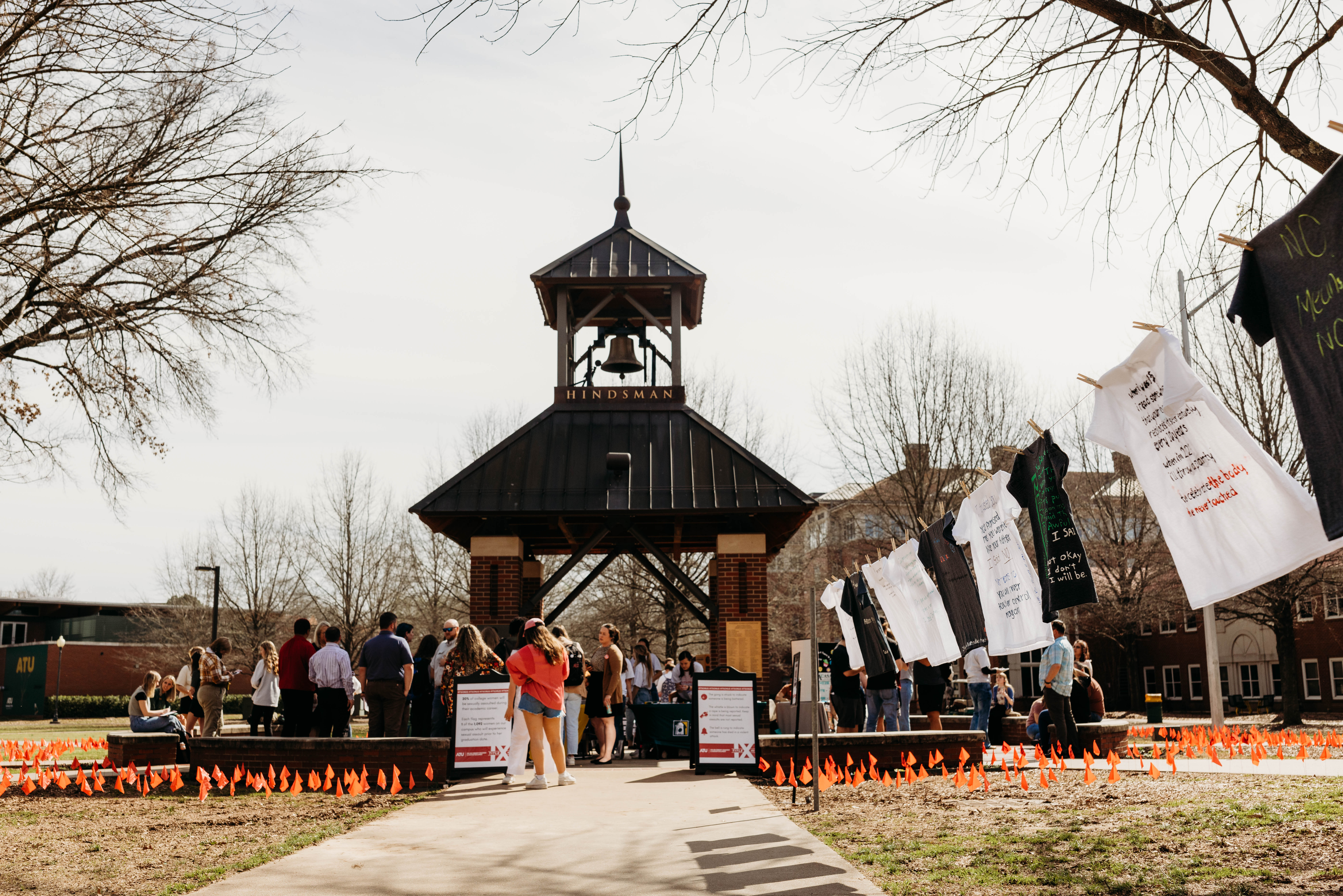 Arkansas Tech University is committed to ending sexual assault and domestic violence. We understand that the words and language we use can have a powerful impact on survivors of sexual assault. Join us in saying IT'S ON US.
Walk a Mile in Her Shoes

---

Kick off Women's Week at the Bell Tower with a rally against sexual and relationship violence! People of all gender identities are invited to walk a mile for prevention and to show your support of survivors of interpersonal violence. Male-identified people are invited to don the famous red high heels in a visually stunning public statement of listening, learning, allyship, and commitment. During the rally, participants will hear from community members, observe ATU's first 'Clothesline Project' display and meet representatives from campus and community partners such as the Ozark Rape Crisis Center and River Valley Shelter. There will be light refreshments available as well as free shirts while supplies last. This event is co-sponsored by SAB, Campus Life, and the Title IX Office.
Monday, March 4
The Clothesline Project

---

Arkansas Tech University is a family, and as a family, we discuss difficult things, including the heart-wrenching experiences of people in our community. The ATU Title IX Office and Department of Campus Life will host the University's Clothesline Project display. The Clothesline Project, founded in Cape Cod in 1990, began as a visual display of violence

perpetrated against women. Participants designed and displayed shirts that conveyed either their personal experience with interpersonal violence or the experience of a friend or family member who was unable to share their story. Over the decades, the project has evolved to include all forms of interpersonal violence, and at ATU, we welcome students, faculty, and staff of all gender identities to participate.

Deadline to submit shirts is Friday, March 3, 2023, at 5 p.m. If you have missed the deadline but still want to participate, please contact Stacy Galbo at 479-964-0583 ext. 4714 or sgalbo2@atu.edu.

View the display on Monday, March 4 from 2-4 p.m. at the Bell Tower (Student Union in case of inclement weather).

Join us during one of two sessions to design a shirt for a personal experience or the experience of a friend or family member. We will have free blank shirts, art supplies, and support staff on standby in case you need someone to talk to.

Can't make it to our Clothesline Creation session? Stop by Doc Bryan Suite 233 to pick up a blank shirt (while supplies last) and/or drop off a completed shirt. Shirts can also be dropped off in the Health and Wellness Center in Doc Bryan 119 (across from the Lecture Hall). Both drop-off locations are available from 8 a.m. to 5 p.m. Monday through Friday.
The Red Flag Campaign

---

Research indicates that 1 in 5 college students experiences intimate partner violence, and oftentimes there are red flags when someone we know is in an abusive or unhealthy relationship. The Red Flag Campaign uses a bystander intervention strategy to address and prevent sexual assault, dating violence, and stalking on college campuses. The campaign encourages friends and other campus community members to say something when they see warning signs ("red flags") for sexual assault, dating violence, or stalking in a friend's relationship.