Staff Senate News & Events
Upcoming Events:
2019 SUMMER FOOD DRIVE
Hunger Doesn't Take A Vacation Food Drive: June 10-18, 2019 - resulted in 309.35 pounds of food donated to the Green and Gold Cupboard.
---
Ms. Bernadette Hinkle named Staff Senate Liaison
Dr. Robin Bowen named Ms. Hinkle as the Staff Senate liaison to Executive Council on June 5, 2019. Ms. Hinkle addressed the Senate at the June 5th meeting and she looks forward to working with the Senate.
---
a leadership tech group talks to staff senate about recycling
Matt Fraser visited the Senate on behalf of a Leadership Tech group that is doing a recycling-based project. The project intends to build upon the current Recycling Committee's work by adding recycling support for administrative and educational buildings. This project is still in the planning process. Mr. Fraser requested that the Senate communicate this information to their constituents and that anyone interested in this project can contact him.
---
human resources visits with the staff senate
Rebecca Lacava visited the Senate to represent Human Resources and report that Blue Cross & Blue Shield is moving the dental card to an MOV number. Each member of a family that is covered by the policy will receive a dental card. Please update your address with Human Resources to ensure that you receive your family's new cards. Human Resources can also assist with requesting new cards and printing temporary cards. If you have issues or questions regarding your cards, please contact Human Resources.
---
faculty and staff appreciation night
The support received for Faculty and Staff Appreciation night was wonderful. Thank you to the Staff Senate members that volunteered your time to pass out shirts, vouchers, and hotdogs. Thank you to Athletics, the President's Office, Development, and Tyson for donating funds, food, and time to make this event exceptional. A special thank you to Jerry for making an appearance and adding to everyone's fun last night. We hope to see everyone again next year!
---
HLC Committee Visits with the Staff Senate
Representing the committee for the university's re-accreditation process with the High Learning Commission (HLC), Dr. Susan Underwood, Dr. Hannah Norton, and Dr. Jeff Robertson presented information concerning the re-accreditation process, its importance to the university community, and how staff members can help in that process.
Being accredited is important because it allows for the transfer of academic credit to and from our institution, as well as qualifies the institution to receive federal financial aid monies. Our last review was in 2011.
The HLC will be visiting ATU November 9-10, 2020. To prepare for that visit the HLC Accreditation committee is preparing an argument and evidence to prove how ATU is meeting the HLC accreditation standards.
Between now and November 2020, the HLC committee will be holding open forums, poster sessions, and general meetings and invite the ATU staff to attend, give feedback and get involved. For more information, visit www.atu.edu/hlc or email Dr. Susan Underwood at sunderwood@atu.edu.
---
Staff Senate Delivers Goods to G&G Cupboard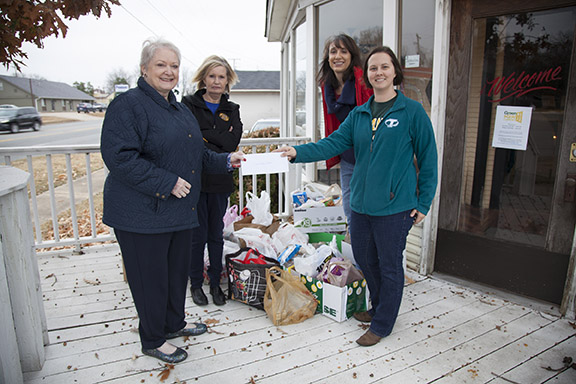 The 2018 holiday season food and personal hygiene items drive to benefit the Green and Gold Cupboard organized by the Arkansas Tech University Staff Senate yielded more than 310 pounds of donated items and monetary donations.
---
Faculty/STAFF SCHOLARSHIP
Faculty, staff, and their dependents can apply for the Faculty/Staff Scholarship starting November 1st. The scholarship amount is $500 and the application deadline is December 31, 2018.
---
Green & Gold Hygiene Drive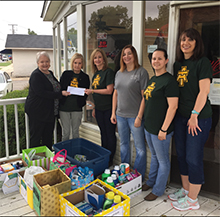 Throughout the month of September the Staff Senate gathered hygiene supplies from the campus community to give to the Green & Gold Cupboard. Pictured are Staff Senate members and members of the Green & Gold cupboard staff.
---
STAFF APPRECIATION COOKOUT 2018
Executive Council showed their appreciation for that ATU staff by serving them at the Staff Appreciation Cookout.
---
STAFF SENATE GROUP PHOTO 2017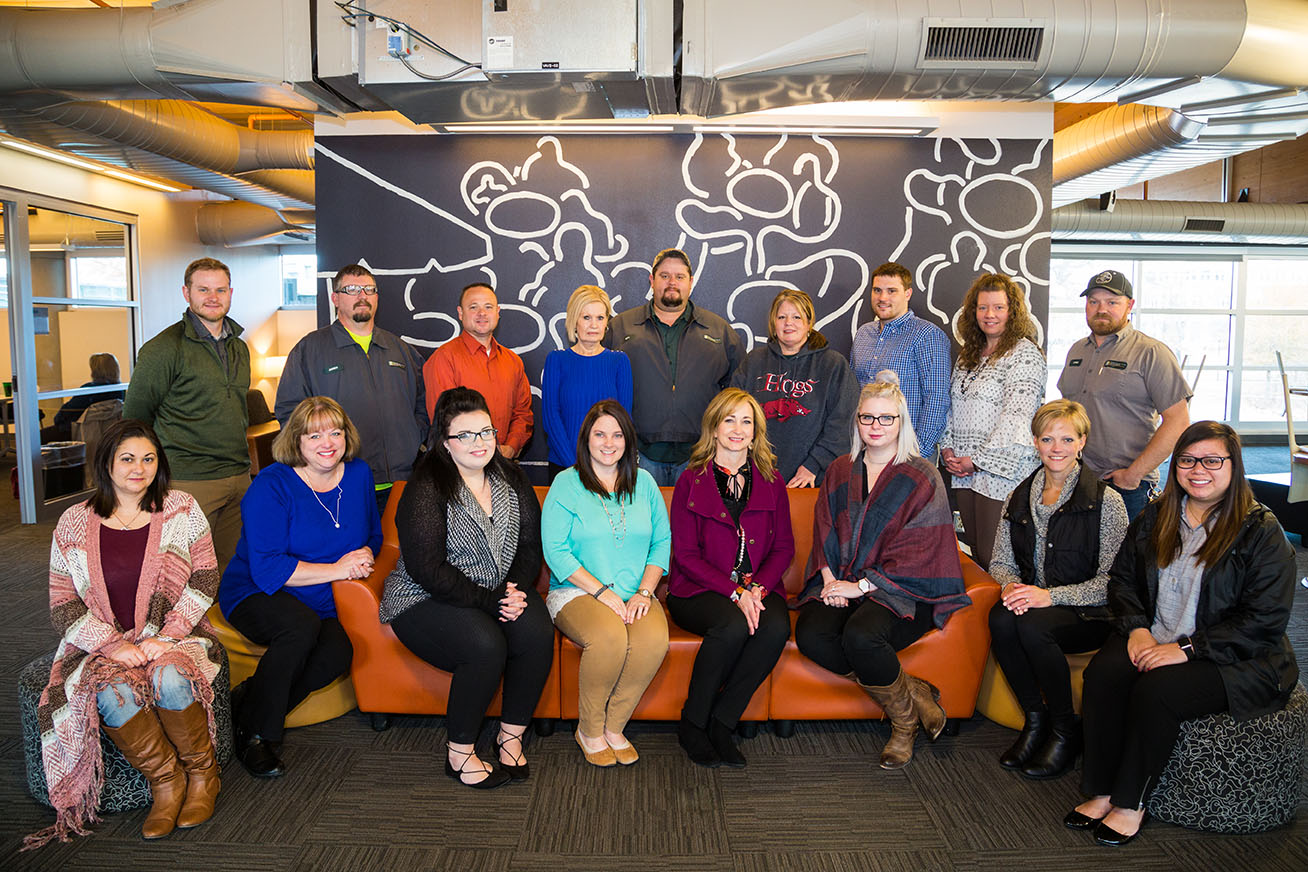 ---
Archived Newsletters