Emergency Training & Programs
A key aspect of emergency preparedness is the training and exercising of plans and procedures. The Arkansas Tech Office of Emergency Management develops and facilitates exercises to test the university's response capabilities. Training and exercising reveals gaps or weaknesses in existing plans. These learning experiences are then incorporated into future planning efforts.
Training and exercise is available for all ATU departments and organizations. To request training, contact Heath Whorton at mwhorton1@atu.edu.
Civilian Response to Active Shooter is a training delivered by Public Safety once per semester. It teaches students, faculty, staff, and other community members what they should and should not be doing during an active shooter incident. These trainings are open to anyone, but also may be specifically requested for departments or offices.
The Department of Public Safety has several staff members certified through the American Heart Association to teach certification courses in CPR/AED and Basic Lifesaver courses. These trainings may be requested by departments or offices.
The ATU Community Emergency Response Team (CERT) is a student organization at ATU whose members become certified in basic disaster response skills. These include fire safety, light search and rescue, team organization skills, and disaster medical operations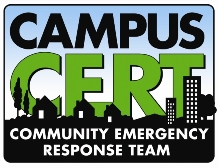 .
Arkansas Tech University's CERT organization aims to put boots on the ground to do the most good. ATU CERT is a force multiplier for campus Public Safety, community emergency response groups, and organizations needing an extra hand. Our volunteer organization provides training in practical emergency management skills in disaster mitigation, response, and recovery. We pair with campus and local organizations to increase our knowledge base and provide support.
CERT welcomes all students of ATU to join our team, that believe in helping our campus and community. To be an active member of the call out list to react to emergencies, CERT asks that members attend one training and volunteer at one event a semester. It is important to have reliable people for the call out list to be effective. Training certification courses will be offered. Volunteer service hours can be logged via The Link. The call out list will include people of various skills to be useful in situations such as search and rescue and disaster response.
Find ATU CERT on TheLink
For more information, contact Heath Whorton at mwhorton1@atu.edu.