FEATURED CLIENT

Big Cuppa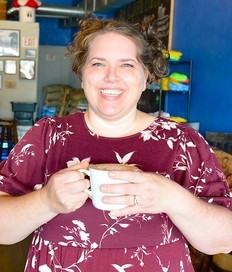 It started with a phone call to Ronda Hawkins in the regional office of the Arkansas Small Business and Technology Development Center located at Arkansas Tech University in Russellville.
From there, Jaime Krutz gained the expertise she needed to help her and her husband, Marty, grow their small business in Morrilton.
Three years later, Big Cuppa LLC is a multi-site operation with 13 employees that is helping lead a revitalization of Morrilton's downtown and Krutz is the 2022 Arkansas small business person of the year.
She was presented with the award during a virtual ceremony that coincided with National Small Business Week.
"I was introduced to ASBTDC in my second year of business when Big Cuppa wanted to start roasting our own coffee beans," said Krutz in a news release from ASBTDC. "Ronda Hawkins, the director at ATU's ASBTDC, helped me with my projections and formalizing the roasting business plan. This allowed us to receive a loan from our bank to purchase the equipment."
In addition to equipment financing, Hawkins has helped Krutz navigate the COVID-19 relief funding application process and become involved with the U.S. Small Business Administration Emerging Leaders program.
"I have attended numerous ASBTDC seminars, especially during the first year of COVID-19," said Krutz. "Ronda made sure I was aware of all the programs offered to small businesses, the due dates and guidance on all those forms. At a recent seminar on (search engine optimization), I made a connection with a commercial loan officer that financed our newest roasting facility. I also learned that I will be outsourcing SEO. Sometimes those seminars let you know when you should delegate."
Learn more about the regional ASBTDC office at ATU by visiting www.atu.edu/asbtdc.
"As a full-service roastery, coffee shop business planning is part of the services we offer," said Krutz. "I refer 100 percent of my new clients in the area to Ronda Hawkins at Arkansas Tech University ASBTDC."
Client Stories


Hound Town

Luisa Santos wanted to create a space for grooming where dogs can be dogs. With the assistance of the Arkansas Small Business and Technology Development Center at Arkansas Tech University, she now owns and operates such a business.
Luisa came to the ASBTDC in June of 2021 with the goal of leaving her job as a dog groomer and opening her own salon. She received assistance with assessing the financial viability of her project, and she received step-by-step guidance with the business startup process. "The most meaningful assistance the ASBTDC provided for my business was guidance. I was overwhelmed with where to even begin.
Ronda was like a fairy godparent I could lean on, listening to my concerns, reassuring me that I was on the right track, and bringing my attention to the parts of starting a business I never knew about. Knowing that I have access to that fountain of knowledge has taken a weight off my shoulders," exclaimed Luisa. Hound Town LLC opened on August 24.
I have often daydreamed about working for myself, but I never thought I would actually start my own business. I am so thankful I decided to gamble on myself and go for it. The more I learn, the more learning I realize I have to do, and I have a new hunger for knowledge. While at times clumsy, I continue to take strides forward and I cannot wait to see where this adventure leads me," said Luisa about her entrepreneurial journey.
Hound Town is located at 411 North Elmira Avenue, Suite 2, in Russellville. Learn more at https://www.houndtowngrooming.com/ or on Facebook.
Gulletts Custom Cuts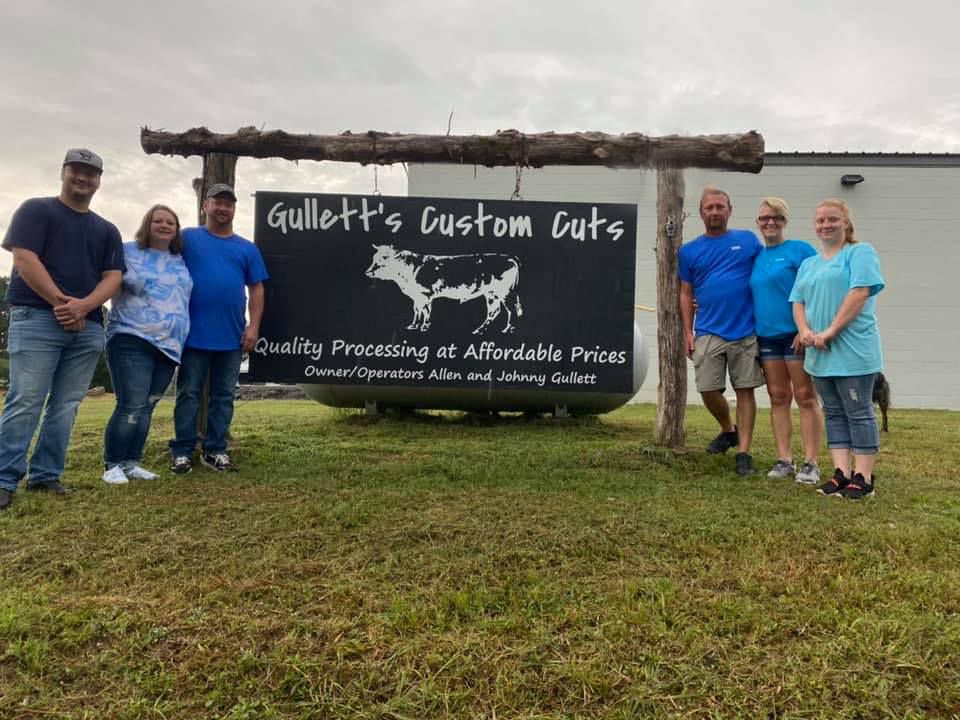 Brothers, Allen and Johnny Gullett, opened Gullett's Custom Cuts on July 17, one year after contacting the ASBTDC for assistance with their project.
Prior to opening their custom meat processing business, Allen worked in meat packing for a number of years. "Our motivation for this business was to help farmers and ranchers get their cattle processed in this community instead of having to drive way off. We have also wanted to start a family-owned business for a long time that could help us reach our financial needs," remarked Allen.
"Our relationship with the ASBTDC during our start on this journey was very helpful," said Allen of the assistance they received, which included assistance with their business plan and projections for their lender. "They also helped us know what was expected of us as for getting licenses and what we needed to do to get our LLC started. We learned a lot from the information the ASBTDC provided us. We are very grateful for their assistance in our business journey."
Trying to construct the meat processing house during a pandemic was a challenge for the family. "The pandemic had banks unsure of any kind of loans," said Allen. While building their facility, material costs were in short supply, making the building phase take longer and cost more than originally estimated. "We were able to get Centennial Bank to give us the loan. They were the only financial institution that would even give us a chance."
When asked about what he learned in starting his business, Allen remarked, "I have learned one real valuable lesson: figure in all the small expenses you can think of because they add up real fast when you are building a business from the ground up; don't overlook the little things."
Gullett's Custom Cuts specializes in processing beef, pork, and venison for individuals such as farmers and hunters. They are located at 129 Dooger Loop in Hattieville, AR. Learn more at 501-669-2538 or at www.facebook.com/gullettscustomcuts.
Lola's Blessed Bean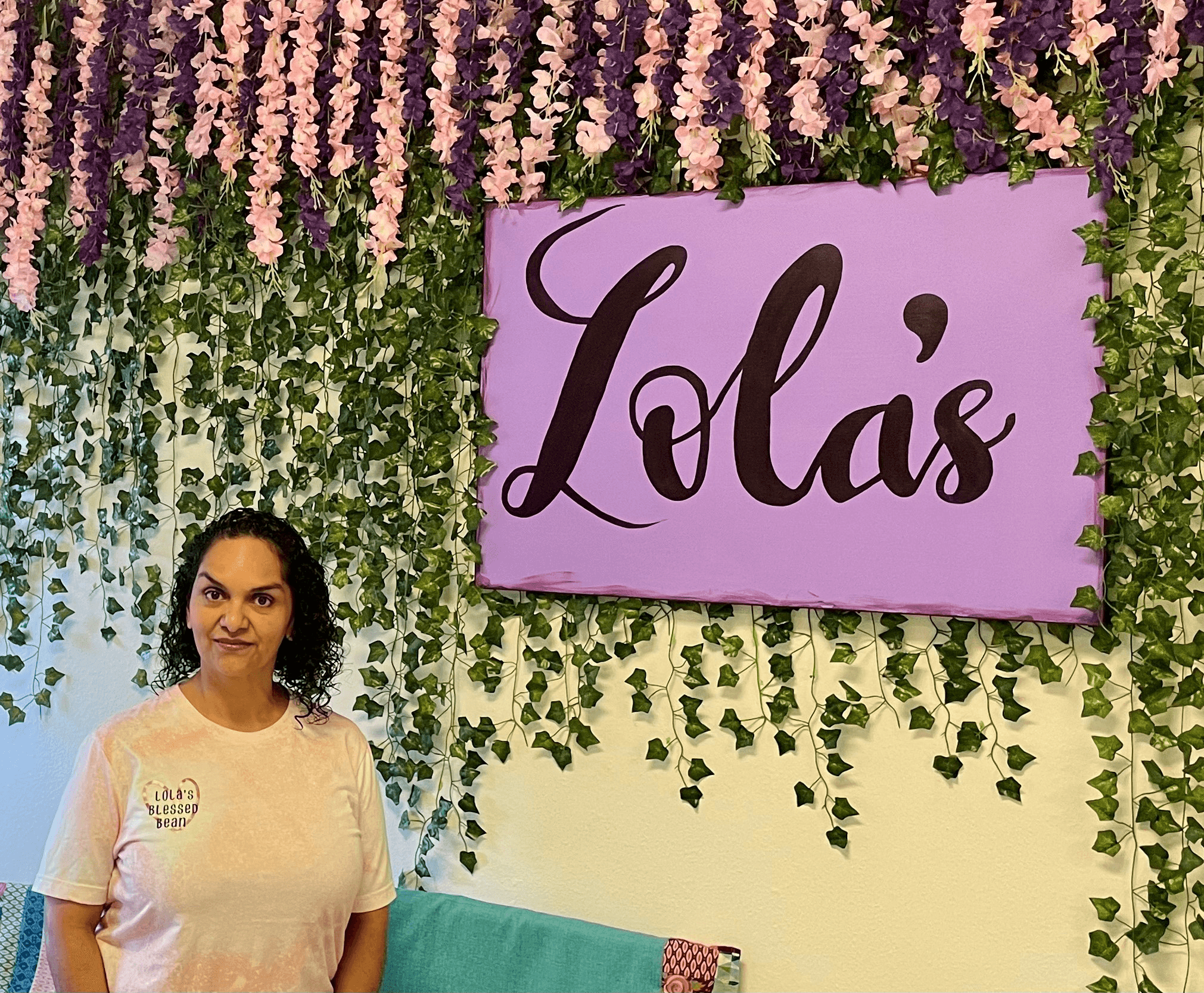 Racheal Calderon recently opened Lola's Blessed Bean in Greenwood, with the assistance of the ASBTDC at Arkansas Tech University. The coffee shop opened on March 13 and offers a variety of desserts, teas and coffees.
Racheal showed strong determination to become a business owner while working with her ASBTDC business consultant. "Being a single parent is not easy. Getting my little coffee shop up and running was hard. Because I was doing this all on my own, this project took me a lot longer than I wanted. I spent a lot of time praying and regrouping. God kept telling/showing me that it was not time, yet. He saved me from opening before the pandemic," said Racheal.
When asked about the inspiration for the business and its name, Racheal explained, "The name, "Lola's Blessed Bean" is to honor my grandmother. She gave me my first cup of coffee and taught me to show everyone unconditional love and acceptance. The Lord laid opening up a coffee shop on me, not only to honor the memory of the countless cups of coffee that I shared with my grandmother and grandfather, but also to honor the memory of my grandmother's sense of community and love for others."
It took time for her dream to become a reality. Racheal and her business consultant stayed in touch throughout the process, working on projections, developing business plan, and discussing startup steps and other details in preparation for the time to open. "Being able to have the ASBTDC and Ronda help me during this whole process was a complete blessing. I have developed the confidence and abilities necessary to be successful. I know that because of the endless hours of coaching, counseling, and assistance developing my business plan and projections with Ronda that Lola's Blessed Bean will be successful."
Lola's Blessed Bean is located at 9 North Main Street in Greenwood. Learn more at 479-597-3300 or https://www.facebook.com/lolasblessedbean.
Gazenko Surgical & Cosmetics Center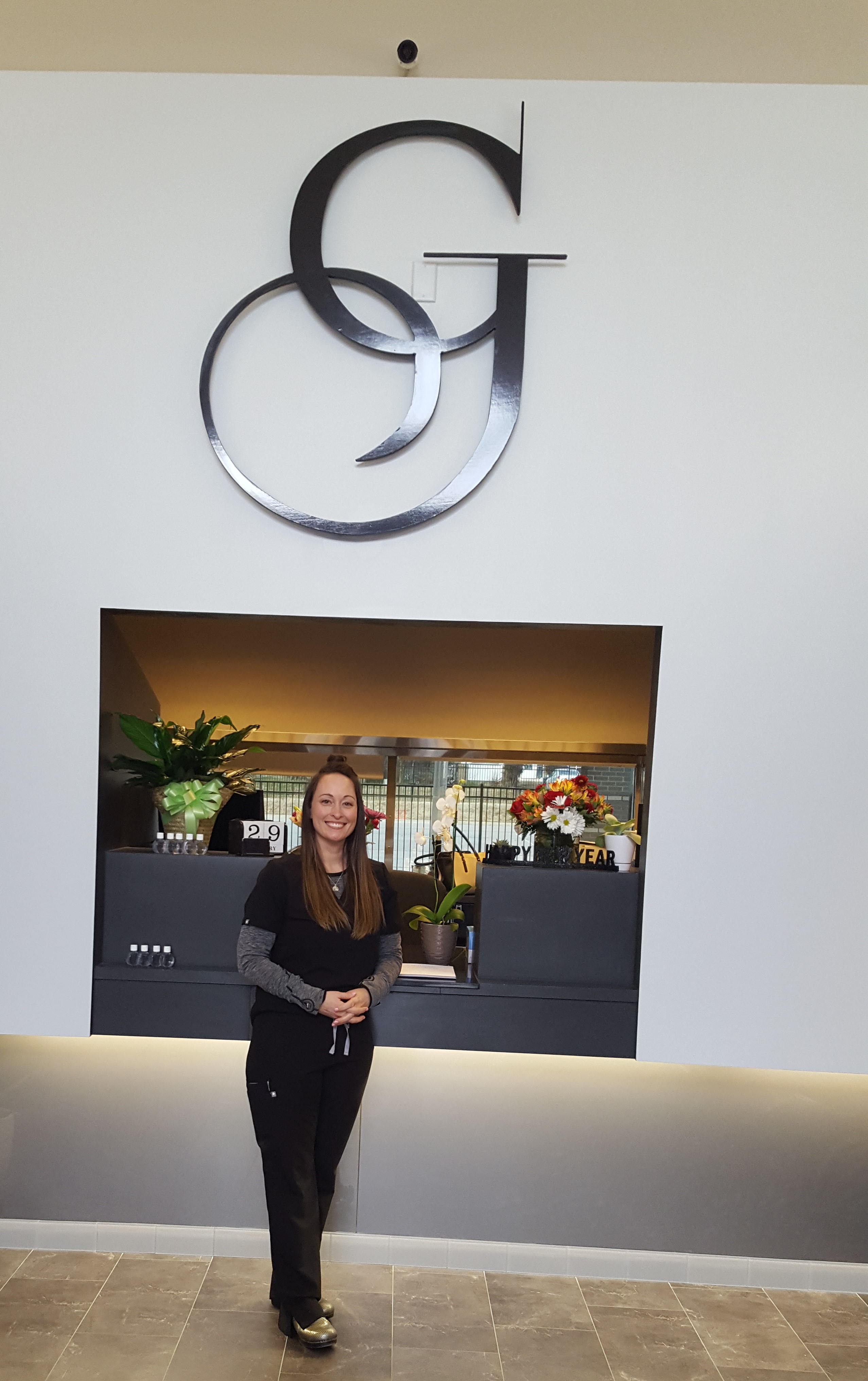 Licensed physician and board certified surgeon, Dr. Kate Gazenko, recently opened her own surgical and cosmetics center in Clarksville. Wanting to manage her own practice, Dr. Gazenko transformed a former bank building into a new clinic.
The clinic will be used for conducting office visits and cosmetic services, including:
Botulinum toxin injections for improving the appearance of facial wrinkles
Dermal filler injections for plumping thin lips, softening facial creases and restoring a more youthful appearance to the skin
Kybella injection treatments for the destruction of the double chin
PDO Threads for smoothing and lifting the skin
Personalized skin care protocols with ZO Skin Health products
When asked what she learned about opening her own business, she said, "My advice is to ask for help. There are so many resources available for new business owners, there is no need to try to navigate everything on your own. It is also important to plan enough time to complete the startup. Rushing the process will lead to added stress and make the excitement of opening your own business get lost."
Dr. Gazenko contacted the ASBTDC at Arkansas Tech University last summer and worked with business consultant, Ronda Hawkins, throughout the startup process. "For a medical professional I am lacking in business knowledge. Having the ASBTDC to help put together my business plan and complete market research was invaluable," she remarked about the assistance she received.
Dr. Gazenko received her medical degree from the University of Arkansas for Medical Sciences in Little Rock and has been a practicing surgeon in Clarksville since 2015. She will continue to offer general surgical procedures at two other facilities.
Gazenko Surgical & Cosmetics Center is located at 1010 West Main Street in Clarksville. Learn more at 479-705-2310, at www.gazenkosurgical.com, or on Facebook.


Roof Maxx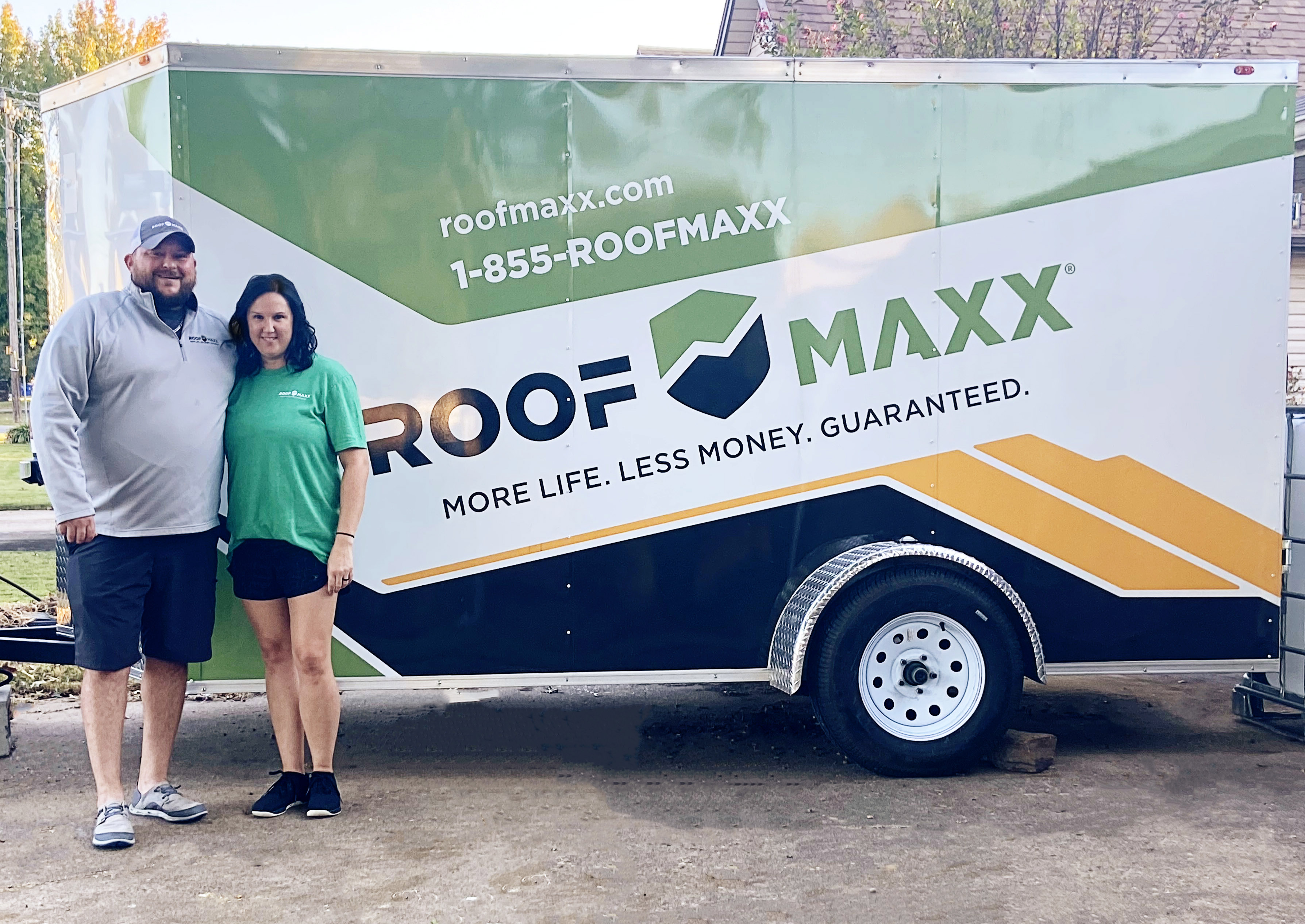 ATU alumnus, Aaron McGrew, and his wife, Rachael, started their new business April 1, 2020. With the assistance of the Arkansas Tech University's Small Business and Technology Development Center (ATUSBTDC), McGrew Crew Roofing and Construction LLC was formed to operate as a Roof Maxx dealer. The business offers a unique, all-natural rejuvenating treatment that add years to the life of a roof. This spray-on, soy-based treatment can help delay replacing shingles for up to five years.
"When we started the process to purchase a Roof Maxx dealership in January, we had no idea COVID was going to hit, and the country was going to shut down. As we were going through the purchasing and certification phase in February and March, things began to get pretty serious. By the time we were officially certified at the beginning of April, we had a full-blown pandemic on our hands," said Rachael about the timing of their new business venture. However, with more people at home and paying attention to home maintenance and finances, the couple has full confidence that starting their business was the right thing to do.
"Customers have been excited to learn that there is an alternative to a traditional roof replacement at a fraction of the cost. There's also an environmental aspect of Roof Maxx that is incredibly appealing to a lot of people. With any new product, it takes some time to educate the market and gain trust, but Roof Maxx is growing rapidly," said Rachael.
The ATUSBTDC assisted the McGrews by providing information about startup steps, and by assessing the project through cash flow analysis and business planning. Of the assistance, Rachael remarked, "The most helpful services ASBTDC has provided for us is the one-on-one consulting and resources. Having Ronda available to answer all our questions and guide us through the process has been a tremendous help. We were beyond prepared when we went to the bank."
Roof Maxx is located in Fort Smith and serves Sebastian, Crawford, Logan, and Franklin counties. To learn more, give them a call at (479) 414-6655 or visit them online at roofmaxx.com/find-a-dealer/arkansas/fort-smith or facebook.com/RoofMaxxRiverValley.
106 West O Street • Russellville, AR 72801 • 479.356.2067
1700 Helberg Lane • Ozark, AR 72949 • 479.356.2077
asbtdc@atu.edu