FEATURED CLIENT
MAK Daddy's Old Town Meet n Eat
Machelle and Kevin Lee purchased the former Dover Supermarket building with a dream of making it into a place for folks to gather, eat, dance, and support their community. It has taken some time, but they have built such a place. "MAK Daddy's is the perfect place for you and your family to come out and enjoy some good ole home-cooked food," said Machelle.
Machelle came to the ASBTDC in March of 2021 for assistance with a business plan, market research, and financial analysis. She credits the ASBTDC's market research as being the most helpful assistance in the early days. "The ASBTDC helped with the business aspect of things. I didn't have a lot to go on, and the research helped me figure out the market and how to meet its needs."
Their business did not pop up overnight; it has evolved in phases. At first, MAK Daddy's Old Town Meet n Eat hosted outdoor events with live music on Friday and Saturday nights, while serving popcorn and ice cream. Next, came the indoor stage, dance floor, burgers and breakfast. The commercial kitchen opened in mid-August of this year with a full breakfast, lunch, and dinner menu. In September, the buffet was added.
MAK Daddy's Old Town Meet n Eat is much more than just a restaurant with live music. It is a town within itself. "We have an ice cream parlor with your favorite ice cream flavors and lots of toppings! We also have a coffee shop with several flavored syrups, both regular and sugar free. So, whether it's an iced coffee, a latte, or a frappe, we can fix you up," remarked Machelle.
The building also has an arcade (the schoolhouse in the town) for kids and those young at heart. The Town Hall holds a bounce house, and is available to rent for private parties. There is even a billiards room for pool enthusiasts.
When asked, "What's next?" Machelle explained, "We are still working on the TV lounge for all the sports lovers. The bakery is under construction, which when open, will supply the restaurant with fresh baked goods! The opera house is halfway completed. It has a huge dance floor and stage for live bands. We hope to bring in comedy shows eventually, just like a mini Branson. The dinner saloon is also in the works for those wanting a drink with their meal. There is certainly something for everyone! Once fully completed, you will definitely feel like you are eating in the streets of MAK Daddy town."
MAK Daddy's Old Town Meet n Eat is located at 9733 Market Street in Dover. They are open for breakfast, lunch, and dinner Tuesdays through Thursdays from 6:30 a.m. to 7:00 p.m. and on Fridays and Saturdays from 6:30 a.m. to 9:00 p.m. A Sunday lunch buffet is open from 11:00 a.m. to 3:00 p.m. Live bands play on Friday and Saturday nights from 7:00 to 9:00 p.m., and Karaoke is on Tuesday nights from 6:00 to 9:00 p.m. The owners, Machelle and Kevin Lee, as well as their granddaughter Ava, personally invite everyone out for a fun, family friendly, good time!
Client Stories
OrenWood Hall

Friends and business partners, Misty Willbanks and Stacy Drilling, started their entrepreneurial journey together in 2021 when they launched The Southern Sippery Mobile Bar.
Before landing on this venture, Misty worked with her Arkansas Tech University ASBTDC business consultant, Ronda Hawkins, on a different idea that didn't materialize. But, when the mobile bar idea came along, things fell into place. "We recognized an opportunity. We saw a similar business in another state, and knew that there was not currently anything like it in Arkansas. So, we jumped," said Misty. "The ASBTDC helped us prioritize the most immediate needs for a successful start."
Working from their homes in Morrilton, Misty and Stacy set out with their repurposed, vintage horse trailer, lovingly named Jolene. The partners started booking events in October 2021. News of their traveling cocktail bar and bartending service spread. Since then, Southern Sippery Mobile Bar has been featured in the publications, Only in Arkansas and Say, "I Do" in 2022!
As their business grew, Misty and Stacy started searching for a space to hold their trailer and supplies. "We happened upon a garage with a building attached that had open space and a beautiful vaulted ceiling. A light bulb went off, and we thought we might be able to supplement our garage rental by renting out the space," said Misty. The partners returned to the ASBTDC for advice on how to best finance the next phase of their business.
"It was an accidental business expansion. Since our first venture was in the event/wedding category, an event space was familiar and we already had many of the tools in place to move forward," exclaimed Misty.
OrenWood Hall and Southern Social opened at 313 East Commerce in Morrilton in May. OrenWood Hall is available for special events, while Southern Social is a collaborative women's co-working space inside OrenWood Hall.
When asked what the most helpful assistance the ASBTDC provided, Misty remarked, "Definitely anything to do with money! We are both creatives, and the ASBTDC's assistance with numbers and projections have been a huge help."
As for the entrepreneurial journey, Misty said, "It's harder than it looks! You have to be able to sacrifice your time, energy, money, family and mental health- ha! But, it's also so rewarding to know that we built this business from scratch, and the support from our community and state has been overwhelming."
Learn more about Southern Sippery Mobile Bar at https://www.southernsippery.com/ and OrenWood Hall/Southern Social at https://www.orenwoodhall.com/.
The Floral Court


Husband and wife team, Courtney and Tyler Haisty, realized their dream of starting their own business when they opened The Floral Court in January.
Both alumni of Arkansas Tech University, Courtney received her bachelor's degree in psychology, and Tyler received his bachelor's degree in business. "My business degree from ATU has helped in so many ways with the business. If I could point to one thing specifically, it would be the project we did in my Money & Banking class with an ASBTDC client." said Tyler. In that project, students were matched with a startup business to assess and report on funding options for that business. "That class taught me what the basics of starting a business were and what tools to utilize. I know I use those tools every day."
Courtney explained that her reason for wanting to start a business was so that she could push her floral design and creativity to its greatest potential. "Having my own shop of some kind was a dream I had growing up. I have always been an artsy person & dabbled in all things crafty. Not long after I started working as a floral designer, I knew I had found my niche and wanted to eventually open my own flower shop."
The Haistys came to the ASBTDC at Arkansas Tech University for assistance with their project. They worked with business consultant, Ronda Hawkins, who helped them throughout the business planning process, the loan request preparation phase, and the startup process.
Courtney found the step-by-step startup steps for business formation, licenses, permits, and best practices the most helpful. "We had no idea where to begin, but the ASBTDC made the process much smoother, and it was comforting having someone to go to with all our questions," said Courtney.
Tyler found the market research and how to budget/project what their business could achieve the most helpful. "The projections that the ASBTDC helped us with better set us up for understanding how much we needed for start-up as well as how much we needed to be profitable," remarked Tyler.
When asked to share her thoughts with other entrepreneurs, Courtney exclaimed, "If you have a dream that seems so far out of reach, but it keeps you awake at night, go for it. Starting a business from the ground up is no easy task, but it is definitely worth the work. Make use of programs such as the services provided by ASBTDC so that you are aware of the risks and are better equipped for the project."
Visit The Floral Court at 911 East Main Street in Russellville, online at https://www.thefloralcourt.com/, or learn more on Facebook.
Russellville Physical Therapy

Laken Hoover contacted the Arkansas Tech University ASBTDC in August of 2021, with the dream of opening a physical therapy clinic with her husband, Wesley. Living in Hot Springs Village at the time, they wanted to live closer to Dardanelle, Laken's home town. Russellville Physical Therapy, Inc. opened in September of this year.
In addition to receiving assistance from the ASBTDC to financially analyze the project and prepare for the loan process, market research was prepared for the couple.
"Before we even started our business plan, my business consultant, Ronda Hawkins, and the ASBTDC helped to create an analysis of the feasibility of opening our particular type of business in the Russellville area. They compared competition and other data in Russellville to similar towns to see how many businesses other towns could support. This was so helpful!" exclaimed Laken.
Laken and Wesley have been practicing physical therapy for the past five years. Laken, who holds a Doctorate of Physical Therapy and Wesley, who is pursuing a Doctorate in Physical Therapy, want freedom in treating patients their own way. "Our patients are at the forefront of our priorities, and we would like to have full control of how we see them, when we see them and for how long we see them without outside pressure and metrics driving our decisions," said Laken.
Russellville Physical Therapy offers personalized exercises, manual therapy, and other techniques to improve flexibility and strength and to alleviate pain and balance deficits for their patients.
Russellville Physical Therapy is located at 1703 West Main Street in Russellville. Learn more at 479-567-5754 or https://russellvillept.com.
Ten Tiny Toes Imaging Studio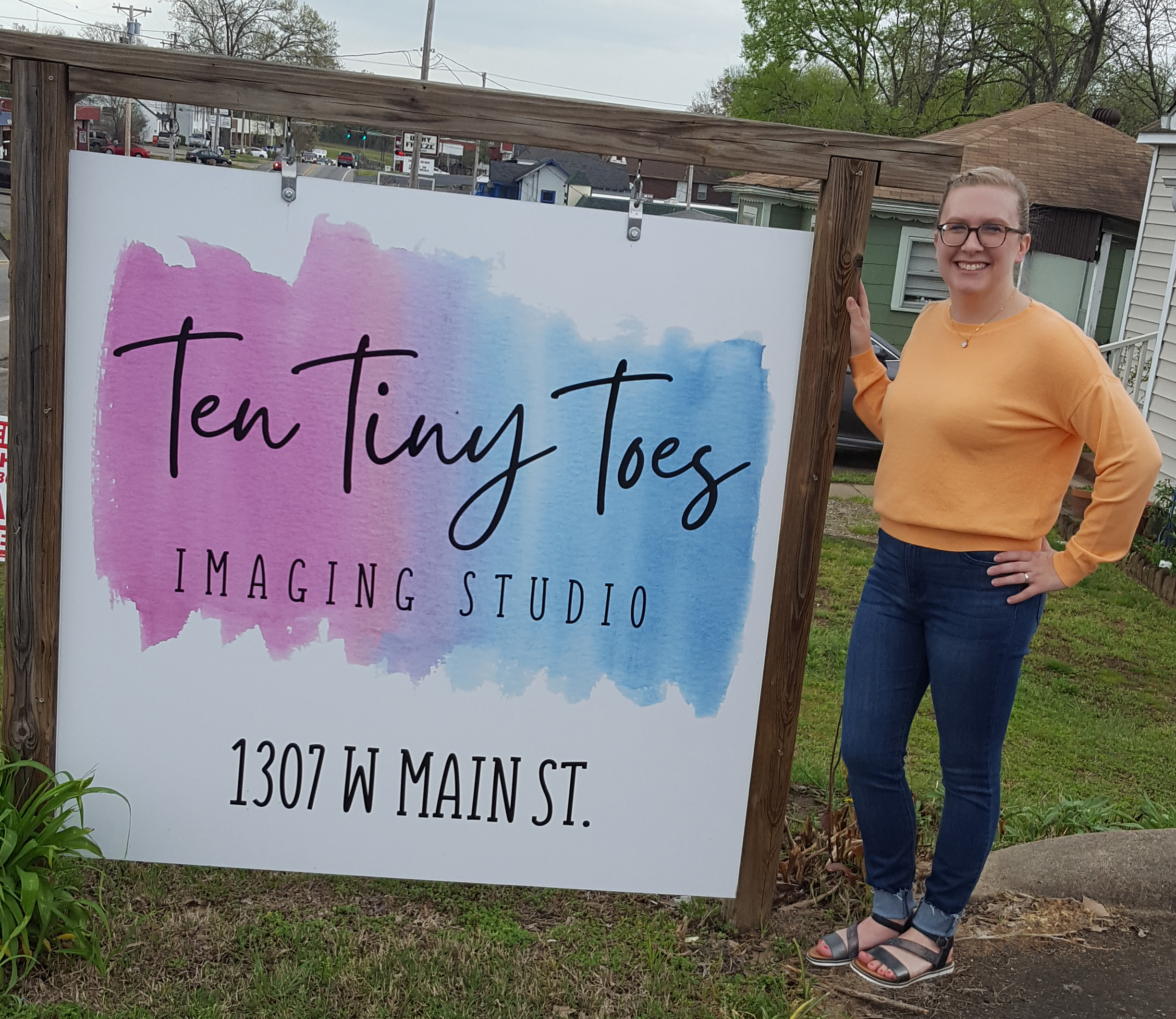 With the assistance of the Arkansas Small Business and Technology Development Center at Arkansas Tech University, Darcy Pearson opened Ten Tiny Toes Imaging Studio in Clarksville on March 1.
At her new business, Darcy uses the skills she has learned as an ultrasound technician to let new babies introduce themselves before they are born and create an experience for the entire family. Siblings, grandparents, and parents-to-be can all be part of that experience and have 3D and 4D ultrasound keepsake images and merchandise to celebrate baby's upcoming arrival.
"The ASBTDC was a huge asset when I was starting my business. I was given information on how to estimate revenue vs cost of business, everything I needed to file in order to start my business, and help filing those things. Any time I have had a question or needed help with something Ronda (Hawkins) has responded very quickly. She is incredibly knowledgeable and willing to help.
It's certainly not easy running your own business! But it is extremely rewarding when you see your hard work start to pay off! I would encourage anyone who is thinking of starting a business or even already has one to utilize the resources ASBTDC offers. It was invaluable to me, and I could not have done it without their help!" said Darcy about the assistance she received from the center at ATU.
Visit Ten Tiny Toes Imaging Studio at 1307 West Main Street in Clarksville or on Facebook or learn more at 479-774-6958.
106 West O Street • Russellville, AR 72801 • 479.356.2067
asbtdc@atu.edu