FEATURED CLIENT
SIX MILE BREWERY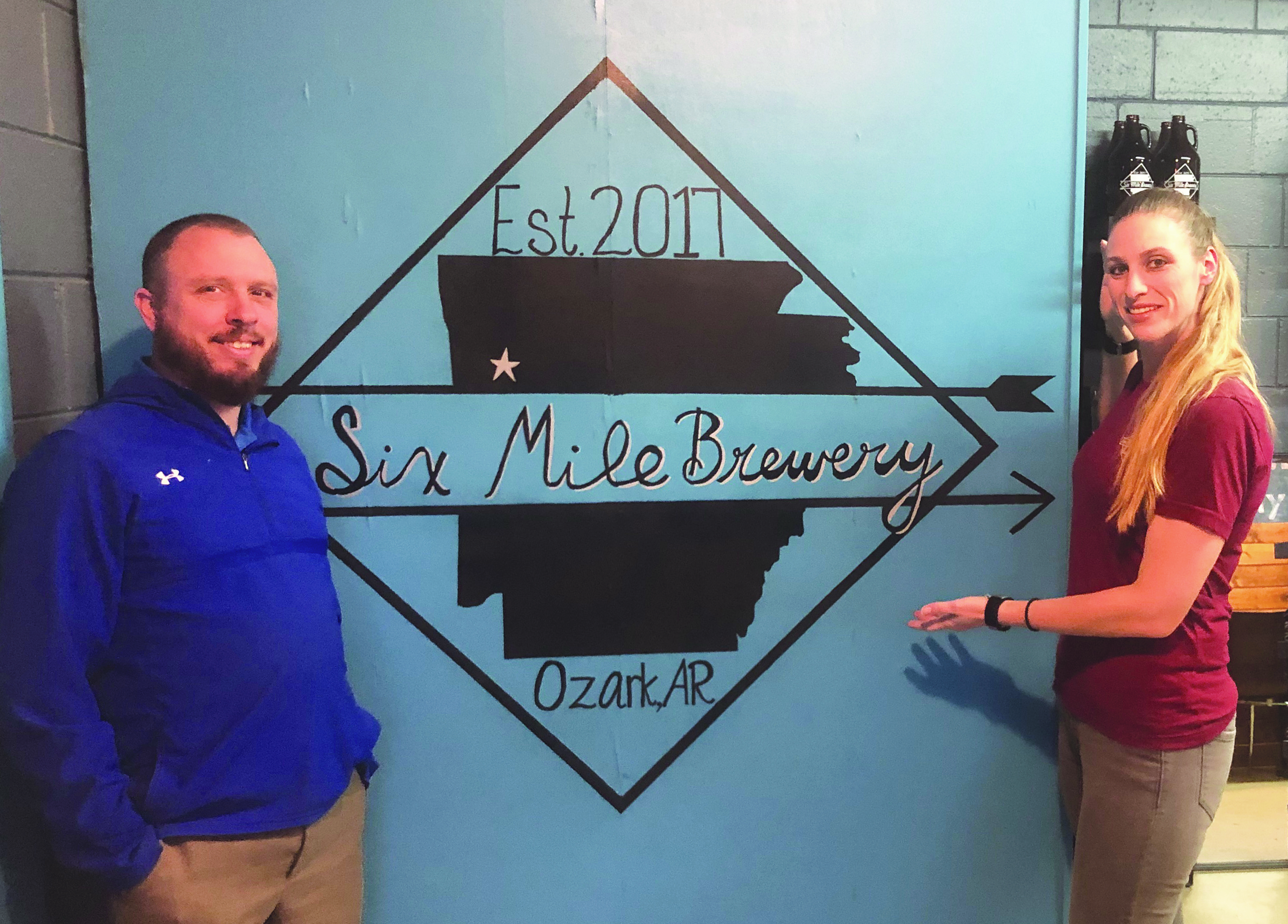 Darren and Karra Busch recently opened Six Mile Brewery in Ozark, Arkansas. The co-owners are both educators in local schools and have decided to turn their passion for home-brewed beer into a business.
Busch has been working with an ASBTDC business consultant since 2017, and the business was just an idea. Of the assistance, Darren remarked, "ATU's ASBTDC was very helpful with the startup of our business. They provided market research for our area and the industry, business planning assistance, marketing information and financing assistance."
Six Mile Brewery offers six different varieties of their own craft beers and guest taps to showcase other Arkansas brewers' beer. Darren was thrilled at how helpful other small breweries in the state were during their start-up by making their beer available for the new brewery's customers when supplies ran low. Six Mile Brewery plans to reciprocate by offering those brewers' beers to their customers.
All products used to brew the beer at Six Mile Brewery such as hops, honey and other ingredients are locally grown and produced. Even the novelties they sell, including growlers, glasses, caps T-shirts and stickers are Arkansas-made products. "These items may cost me a little more to obtain, but we have made a commitment to support our area producers and manufacturers," Darren stated. "We believe we should support those businesses who support us."
Six Mile Brewery also offers all equipment and ingredients for those who wish to venture into the home brewing hobby and try their own recipes.
Six Mile Brewery is open Thursday through Sunday and is located at 1404 W. Commercial Avenue in Ozark. Learn more about them on Facebook or at six-mile-brewery.business.site.
---
Client Stories
FORMER TEACHERS HIT THE BOOKS
Jennifer Battles and her partner, Sara Putman, held their grand opening for Bookish: An Indie Shop for Folks Who Read on August 11.
At a point in her life when Jennifer was ready for a change, she contacted the Arkansas Tech Small Business and Technology Development Center (ATUSBTDC) to explore starting a business. A high school English teacher at the time, Battles held reading and books close to her heart. However, knew she needed to learn more about running a business.
Working with her ATUSBTDC business consultant, she was guided through understanding startup steps, operational issues, and what makes a business succeed. Her consultant assisted with matters such as business permit guidance, sales tax compliance, fine-tuning her business model, identifying and attracting customer segments, financial analysis, and other key business issues.
When asked about what she felt was the most useful service the ATUSBTDC provided, Jennifer answered, "Market research! Believe what the research shows you about target customers. We are definitely seeing that customer frequently in our store."
Located in downtown Fort Smith, Bookish: An Indie Shop for Folks Who Read is the type of place you can go to hang out. The shop offers story time for children, book clubs, author lectures, workshops, birthday parties, audiobook memberships and more.
Because both Jennifer and Sara taught high school English, they are a wealth of knowledge. This knowledge is shared with customers as they explore books, authors, and anything "bookish." Stop in and see Jennifer and Sara at 115 North 10th Street in Fort Smith or online at http://bookishfs.com.
GIFTS ON PARKWAY
Sydney Halford recently became the new owner of Gifts on Parkway. Having a strong desire to own a business, Halford decided to purchase the store when she learned the current owners were closing it.
Because she was changing careers from school teacher to entrepreneur, Halford thought it prudent to get help. She came to the Arkansas Tech Small Business and Technology Development Center and received assistance with business planning, financial projections, marketing, and other topics to prepare her for business ownership.
"The most valuable assistance that I received from the ASBTDC was when Mr. George explained the steps I needed to take to ensure purchasing my business was successful. He gave me a detailed checklist that helped me understand what I needed to do and when it needed to be done. The checklist also explained where to go to accomplish each task, explained Halford.
"Anyone interested in purchasing a business should make an appointment with the closest ASBTDC. The employees are so helpful and can guide you in the right direction. They know who to contact and the steps you need to take to successfully start a business."
Gifts on Parkway offers gifts for every occasion ranging from timeless classics to on-trend items and will soon offer bridal and baby registries. Halford thanks the community for the support they have shown during the transition. She is passionate about meeting customers and helping them find the perfect gift for any occasion.
Stop by Gifts on Parkway at 2149 E Parkway Drive in Russellville, give them a call at 479-890-6932, or find them on Facebook.
welderbeast mobile welding and repair
Robi Schreckhise of Lamar is a proud, new business owner. Welderbeast Mobile Welding and Repair, a business name that reflects his time spent working on the Alyeska Trans-Alaska Pipeline, opened in February.
Shortly after graduating from Lamar High School, Robi moved to North Pole, Alaska to start his career. As a member of the Plumbers and Pipefitters Union, he completed a five-year apprenticeship which consisted of thousands of hours of classroom education and field training. Through his training and experience, Robi now holds multiple certifications and is a journeyman pipefitter/welder with over 8 years and 16,000 hours of experience in his field.
After moving his family to his hometown, Robi continued to travel to Alaska to work for eight weeks at a time, having only two weeks off between work rotations. It was during this time, he started searching for a way to be home more with his family and connected with the ASBTDC.
"The most helpful service the ASBTDC offered me was just the simple assurance that someone had my back. I would have been too scared to just jump out on my own without knowing how things were going to go with my family's livelihood at stake. The ASBTDC gave me the information I needed as the questions came to me and reassured me every step of the way," said Schreckhise.
"At the beginning of this year, I decided to strike out on my own and make a way for myself to do the work I am trained and love to do AND to be home with my family. I started Welderbeast because there were no job opportunities as an employee that I was happy to settle with that included my skill set in this area, so I created one by becoming a business owner."
Learn more about Robi and Welderbeast at https://welderbeast.com/, 479-225-9431, or on Facebook at www.facebook.com/welderbeastx.
emily young
ASBTDC client, Emily Young, is what one might call a serial entrepreneur. After founding a graphic design business called The Brainstorm Agency in 2014, it didn't take her long to catch the business bug. In 2016 she teamed up with her parents on her second business, a bookstore that hosts live music, open mic nights, and other events. Dog Ear Books is located in downtown Russellville and recently received the 2018 Best New Downtown Retail award from Main Street Arkansas.
Young is now working on her next project, an arcade in downtown Russellville. "The Garage Arcade will be a place where old school nostalgia meets new school experiences. We'll have a wide range of 80's & 90's arcade games, snacks, and an all-around cool place to hang out. You can come spend your lunch break with us or hang out all day. There will always be something new to play and cool people to hang out with," said Young about her current project.
Emily Young is very active in the community, and the community has reciprocated. For the arcade project, Young recently raised nearly $5,700 from 39 backers on an Indiegogo campaign. The money she raised allowed her to purchase her first two video game consoles, which contain about 150 games.
With each project, Young came to the ASBTDC. About her experiences, she said "ASBTDC has helped me think about aspects of my businesses that I would have thought of way too late, if at all, on my own. They've helped guide me through parts of starting up a business that either I knew nothing about or didn't even know how to approach. Their guidance has saved me from a lot of stress, and starting a business is inherently stressful; they just make it a little bit less so. From business plan adjustments to who to contact about possible food preparation, they are knowledgeable and helpful the whole way." Visit Dog Ear Books and The Brainstorm Agency at 301 W. Main Street in Russellville or online at: www.ilovedogear.com and www.thebrainstormagency.com.
Watch for more about The Garage Arcade on Facebook at: www.facebook.com/garagearcade.
River Valley Counseling & Therapy
Amanda Jones-Shelton is proud to announce the opening of River Valley Counseling & Therapy, PA in Clarksville, with the assistance of the Arkansas Tech University Small Business and Technology Development Center.
Amanda started working with consultant, Nathan George, more than a year before settling into her current location. During that time, she received one-on-one counseling in financial planning, business organization, writing a business plan, and other startup steps.
"Working with SBTDC assisted me with my financial planning and helping me with organization of this business as a whole. My business plan we created together has been the envy of many!" remarked Jones-Shelton.
River Valley Counseling and Therapy, P.A. provides individual, relationship, crisis intervention, and suicide prevention counseling to manage depression. They also provide assistance with anxiety, anger adjustment, trauma and many other health concerns.
The first mental health counseling center to open in Clarksville, Jones-Shelton is assisted in her clinic by Dr. Dana Thomason, a licensed professional counselor. They are both very proud to be able to serve Johnson County and the surrounding areas with counseling and mental health services. Both are very passionate about the mental health services that are now available to the public in the Clarksville area. Their slogan is "helping people navigate the storms of life with hope and support".
For more information, call them at 479-264-7307 or visit them at 1304 W. Main Street, suite A-1 in Clarksville.
Kneading Hands Bakery
Gabrielle Short recently expanded her business to a full-service bakery when she purchased The Cake Place with the assistance of the Arkansas Tech University Small Business and Technology Development Center (ATU SBTDC). Prior to the expansion, Short operated a home-based bakery selling her goods exclusively at farmers' markets.
Short began working with an ATU SBTDC consultant more than a year before she found her current location. She received market research and one-on-one consulting while searching for a building that would be ideal for her bakery. When The Cake Place came on the market, Short continued to work with her consultant throughout the purchase and loan process and her business setup. Short received a loan from Simmons Bank to finalize the transaction and make the bakery her own. She continues to work with her business consultant for marketing, bookkeeping, and other operational questions as they arise.
"The benefits of working with ASBTDC and Ronda Hawkins are more than I could begin to explain! If it hadn't for the many hours that Ronda put in helping me build a business model and financial analysis, I would not have been in the position to purchase the business when the opportunity was presented. With her help through the purchasing process, I was better prepared for all the ins and outs of running a business. I could never thank ASBTDC for all they have done for me and our business!" explained Short.
Kneading Hands Bakery specializes in cupcakes, cookies, and cakes for weddings and other special occasions. Short has given the property a new look and expanded her product line by adding scones, espresso, balloons, and other treats. Stop by and congratulate Gabrielle Short and her friendly staff at 411 West Parkway Drive in Russellville, visit them on Facebook www.facebook.com/kneading.hands.bakery, or give them a call at 479-968-8945.
EDGE SALON ACADEMY
Corey and Bridget Price of Knoxville opened a new cosmetology school in Russellville in December. With a capacity of thirty students, Edge Salon Academy uses state-of-the-art education methods in their state-of-the-art facility. Two instructors assist the owners in leading personalized classroom and hands-on education. Students serve clients who come for manicures, pedicures, massages, haircuts, color services, waxing, and more. "We put our students first and teach them beyond passing a test. We want them to be ready to work in a salon, day one of their first job," said Bridget Price, co-owner who has over twenty years of experience as a stylist and salon owner.
Corey Price came to the ASBTDC for assistance in gaining capital for the project. He worked with an ATU ASBTDC consultant on loan packaging and to determine the amount of financing he was able to obtain based on his financials. "I gave them my business plan, my tax returns, and a lot of other documents. We went over everything to make sure I wasn't missing anything or there wasn't a program for which I could apply. It was reassuring to have an expert to ask for this type of assistance," said Mr. Price.
Edge Salon Academy owners also have plans to educate beyond their own students by bringing in top-name speakers at events for continuing education for existing stylists.
For more information about Edge Salon Academy, call 479-219-5074 or visit them at 410 South Arkansas Avenue or on Facebook.
Creature Comforts Pet Boarding & Daycare
Creature Comfortsrecently opened its facility to assist pet owners who work, travel, or just want their pets to have company during the day. The full-service boarding and day care business welcomes dogs, cats, other small mammals, birds, and reptiles. Pets can visit for hours or days, depending on the needs of their owners.
Fourteen rooms are currently available with fourteen more opening soon. All rooms are climate controlled and furnished with beds, toys, and blankets. Different room sizes are available, including suites. To ensure pets get exercise, each room has a private outdoor run and animals are matched with playgroups for outdoor activities.
Noel and Betsy Young Snyder opened their pet boarding and day care business in September. The Snyders are both former Little Rock Zoo employees and bring a combined 40 years of animal care experience to their new endeavor. Because the owners live on site, pets are never left alone.
The Snyders first came to the ASBTDC in 2013 and received startup requirement information and help with their business plan. They also received market research, financing information, and loan packaging assistance. The ASBTDC continued to assist them throughout their construction phase and is currently working with them on marketing and other aspects of running their business.
"The ASBTDC has been a wonderful resource for us for both planning and operating our new business. They spent a lot of one-on-one time with us, organizing our goals and priorities so we were sure to concentrate on the most important steps. Through the ASBTDC, College of Business students even did a project on our company and found multiple funding options for our startup. We received visits from Nathan George all throughout our construction phase, and that support was invaluable to us," said Betsy Young Snyder about the assistance received from the ASBTDC.
Creature Comforts is located at 2295 SR 124 in Russellville. Learn more at 479-968-0880 or www.creaturecomfortsboarding.com.
THE BRAIN STORM AGENCY
The Brain Storm Agency officially opened its doors on September 15, 2014. After doing freelance design work and working as a lead graphic designer at a local news outlet, Emily Young decided to go out on her own.
Young visited the Arkansas Tech office of the Arkansas Small Business and Technology Development Center (ASBTDC) for startup assistance. She obtained help with her loan documents so that she could go forward and move into her office. Young also received free market research from the center and came away with key industry and market information pertinent to her business. To help Young find clients, the ASBTDC worked with her to define her target market, to understand business-to-business marketing techniques, and helped her generate a lead list to begin working her business.
Of her experience, Young said, "The ASBTDC team is friendly, welcoming, and there to help you in any way they can. Not to mention it's free! They helped me think through business decisions, really consider certain choices, and loaded me up with tons of reading material that I couldn't have done without. They are a godsend."
The Brain Storm Agency is located in Russellville at 103 North Fargo Avenue. Visit them at: www.thebrainstormagency.com
GEORGE TERMITE AND PEST CONTROL
Serving more than 8,400 clients and growing, George Termite & Pest Control has outgrown its current location on State Highway 22 West in Dardanelle.
Dusty George wanted to know his best option for funding his expansion, but he didn't have time to do the research himself. He joined in on a money and banking student project. Students investigated four loan options, prepared a report, and presented their findings to George. "The students did the work and showed me that I could afford to make the expansion happen. I went to the bank with the report that the students provided and did exactly what the plan recommended" said George.
George obtained a loan for $117,000. He is constructing a brand new building across the highway from his existing location which is scheduled to open in July 2014.
Visit them in their new location at 1966 State Highway 22 West in Dardanelle or on the web at www.georgetermite.com.
KITCHEN ESSENTIALS
Arkansas River Valley food enthusiasts can spend more time cooking and less time driving now that a local option for gourmet kitchen supplies is available. Kitchen Essentials owner, Becki Bryson, said she made the decision to open the store when she realized there was need in the community.
Bryson started doing research on her idea. While looking at the SBA website, she discovered an ASBTDC office right here in Russellville. "Without their help with market research, advice, and encouragement, we would not have been able to put everything together for our business plan. The help we received really made me realize my dream was possible," Bryson said about her experience with the ASBTDC.
Kitchen Essentials offerings include, "everything you need for a kitchen," according to Bryson. In addition to kitchenware and small appliances that can't be found elsewhere in the River Valley, the store has food and gadgets. Food items include a variety of dip mixes, sauces, fresh-roasted coffee beans, and more. They also have the River Valley's first olive oil station which allows customers to save money on high-quality olive oil by reusing their bottles.
Kitchen Essentials is located in the Russellville City Mall at 407 N. Arkansas Avenue. Visit them at www.facebook.com/KitchenEssentialsInc
Dusty Walker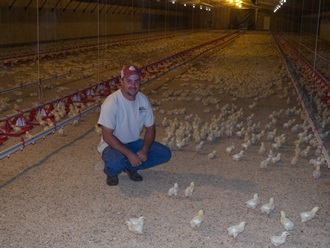 Dusty Walker has always enjoyed working on a farm, and owning his own farm has been a dream come true for him. "I knew that obtaining financing for these new expensive houses would be tough, so I contacted Nathan George of the ATU ASBTDC. Not only did I know that Nathan had over two decades of banking experience, but that he also had over 30 years' experience running a large poultry operation. Nathan was knowledgeable in our discussions of new equipment requirements, chicken house placement on the farm, and income returns that each size house would bring. He helped me with details like cash flow forecasting and other information for my loan refinancing which allowed me to build these two new houses."

Walker obtained a loan for $840,000 for the construction of two chicken houses and the refinancing of his current farm. Walker recently completed his first batch of chickens with the new houses. His farm's performance was near the top of the charts which increased his earning for that batch. He was very excited about how well his new equipment and computers performed and has plans to add additional chicken houses in the future. He said he would definitely continue to work with the ATU ASBTDC to help him reach his business goals.
UNITED WELDING INSTITUTE (UWI)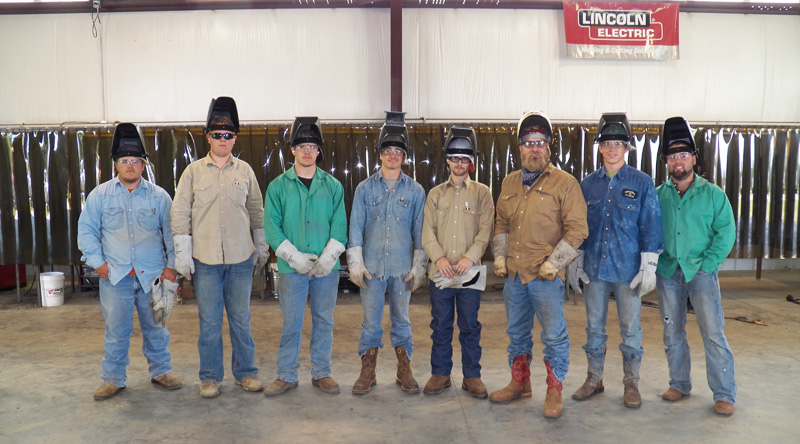 The first private welding school in the state recently opened in Pottsville. United Welding Institute (UWI) is licensed by the Arkansas State Board of Private Career Education. Owner and instructor, Jonathan Humphrey, started his school to meet the need for qualified welders in different industries. While working in the oil fields, Humphrey observed the difficulty employers had in finding newly-trained skilled welders. United Welding Institute uses a hands-on approach to training students in TIG, MIG, and arc welding and prepares them for state certification and employer testing as qualified welders.
Humphrey has worked with the ASBTDC since 2012 to bring his dream to fruition and said, "The ASBTDC helped me by showing me different ways to market my school. They also helped me find the right agency to obtain my license in private career education which was critical to getting started." Humphrey's office staff recently attended an ASBTDC seminar and rated it as overall "excellent."
The school is located at Exit 88, right off of Interstate 40 on Mountain Base Road. Humphrey invites area companies to tour his facility and discuss their specific welding needs with him. Students interested in a career in welding should contact the school at (479) 264-2495 or gain more information by visiting their website at United Welding Institute.
Cyclone Car Wash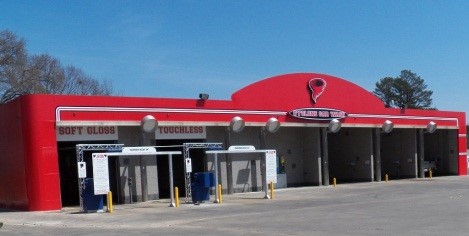 Cyclone Car Wash owners, Matthew Wilkins and Bob Lorimer, wanted to provide the latest technology for their customers to get a clean vehicle using an environmentally friendly process. To fulfill this goal, the partners purchased an existing car wash on the west side of Russellville and have turned it into the most modern car wash in Russellville.

The ASBTDC assisted the clients with their loan package and helped them in determining viable financing options to purchase and renovate their car wash. "We really appreciate the assistance the ASBTDC gave us during the planning process of our business. The information and data they helped us obtain was a very important part of the development process," said Wilkins.
The owners invite you to visit their car wash and experience the convenience and quality they offer. Cyclone Car Wash is located at 1020 N. Arkansas Avenue in Russellville.
JOSHUA'S FINE JEWELRY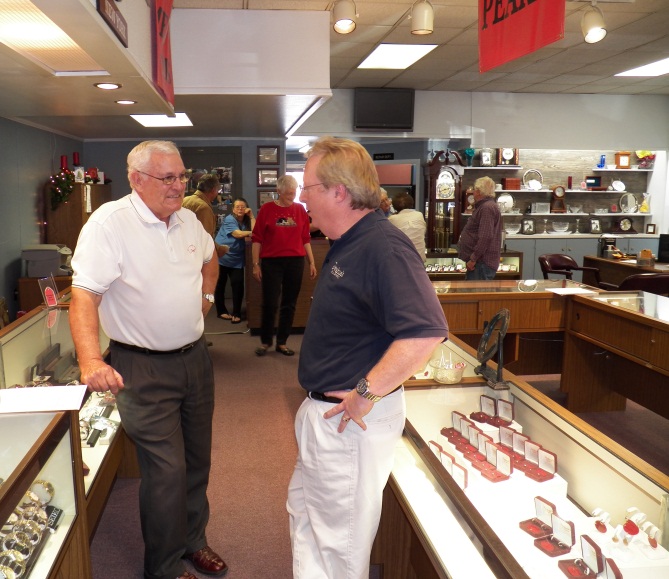 Joshua's Fine Jewelry brings three-dimensional technology to the ancient art of jewelry making using an innovative, new custom design system. The store recently remodeled its sales floor and added the 3D customization system in an effort to attract and meet the needs of more customers.
"Our goal is to be a cross-generational retail business, so we requested market research from Arkansas Tech's ASBTDC to find out what consumers want," said store owner Chris George. "The information we were given gave us insight into what people of all ages in our area want. The market research also included industry analysis and retail floor plans which helped us decide on the right layout for our store. Now that we have the technology and the information we need, we are taking customizing to another level. Our customers are instrumental in designing their purchases, and they can see their piece develop right before their eyes. It is fascinating to watch their faces when they see that digital render."
This innovative new custom jewelry design system is only available at select jewelry stores across the country. Stop in at Joshua's for a free, no-obligation demonstration at 310 W. Main in Russellville or go Joshua's Fine Jewelry.
HEALTHY U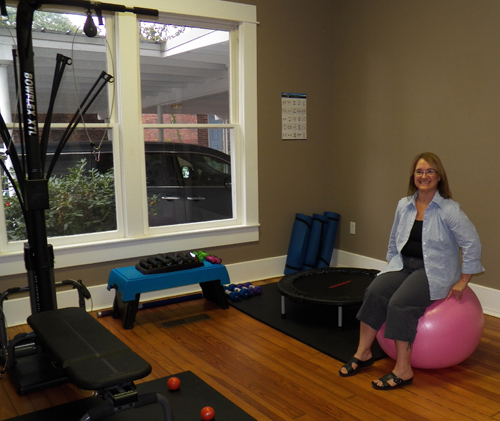 Cathy George is on a mission to help people get healthy. Her passion is teaching people to make their lives more healthful. "Going on a diet is not a solution, so we teach people skills for healthy living that leads to real, permanent changes. Eating right is just a piece of the puzzle. We work with the whole person through counseling, nutrition and fitness to make these changes something each person can live with" said George.
After opening her new wellness center, Cathy George came to the ASBTDC for assistance in marketing including improving her web presence. "When you are in business on your own, it's difficult to know the steps to take to get your name out there. I knew I needed a website but didn't know where to start." George attended an ASBTDC seminar entitled, "Small Business Website Planning and Marketing" in October and had her professional-looking website up and running shortly thereafter. "I never thought I could do this myself, but after the class I investigated the different web services discussed during the seminar and chose one that fit my needs. It was helpful to know how to organize the site and plan it out beforehand so once I got started I had a vision of what it should be. The website I built represents my business; not someone else's idea of Healthy U" added George. "The help that the ASBTDC gave me helped me improve my online presence so people who want to improve their lives can find me." Healthy U is accepting new clients and is located at 911 West B Street in Russellville and online at Healthy U.
106 West O Street • Russellville, AR 72801 • 479.356.2067 • asbtdc@atu.edu