Medical Assisting
Associate Degree | Ozark Campus | Blended
The classes required are offered in a blended format. For the majority of the courses, the content is through online classrooms, video recordings, or digital mediums. However, most procedures/skill checks must be completed in person during a lab with the class members, a team/partner or individually.
Students are trained to work in a wide variety of support service settings to provide generic therapeutic, supportive, and preventive services for people with emotional, developmental, social, or physical needs. Students learn to connect clients to appropriate services, monitor their efficacy, advocate for clients, and provide administrative support for agencies. Students may, under supervision, provide individual and group guidance, lead workshops, provide daily living skills training, assist with vocational planning, provide case management services, and complete records and reports.
Hands-on Learning Opportunities
Required internship with a minimum of 160 clock hours in a medical facility.

Students also have the privilege to volunteer their skills and training in the River Valley community at nursing homes, senior activity centers, schools and flu clinics.

Students have the opportunity to observe or work alongside other healthcare professionals in a variety of settings, including pharmacies, physician clinics, urgent cares and hospitals.
Skills You Will Learn
Active listening

Critical thinking

Diversity awareness, and cultural sensitivity

Effective communication

Problem-solving skills for entry-level medical assisting procedures in administrative, clinical and laboratory areas

Teamwork
About This Degree
TUITION
Students living in states bordering Arkansas receive in-state tuition.
Financial Aid is available for those who qualify. The Arkansas Tech University school code to use on the FAFSA is 001089.

The AR Futures grant could cover your expenses for this credential. Check credential eligibility.

Calculate Tuition
CAREER OPTIONS
You could work as a(n):
Clinical medical assistant

Administrative medical assistant

Specialized medical assistant
Alumni of our program work at:
Berry Drug




Conway Regional Medical St. Mary's Hospital

Johnson Regional Medical Center

Mercy Medical Clinics

Millard-Henry Clinic

Russellville Pediatric & Adolescent
ACADEMIC INFORMATION
View the links below to better understand the courses, the course timeline, and who your faculty will be when you enroll as an ATU student.
Credentials that stack with this degree:
Associate of Applied Science

Bachelor of Business

Bachelor of Health Information Management
Point of Pride
The Medical Assisting program at ATU Ozark is the only program in Arkansas accredited by CAAHEP in the state.
IT'S TIME TO STEP UP
Find out how we will empower you to meet every challenge head-on.
ADDITIONAL PROGRAM INFORMATION
The Medical Assisting Graduate job placement rate for 2019 was 100%.
The retention of the 2019 Medical Assisting admission cohort was 100%.

MARCH 1: CVT, PTA, LPN, MA, RN, OTA APPLICATION DEADLINE
Medical assistants perform administrative and clinical duties under the direction of physicians in their offices or other medical settings. The medical assistant curriculum is a two-year Associate of Applied Science degree program. This program offers the student a broad foundation in basic medical assisting skills including an externship (practicum) in a medical facility under the supervision of clinic personnel and the Medical Assistant Program Director. Basic medical assistant training and education consist of learning experiences in communication skills, examination room procedures, clinical laboratory skills, and general office practices.
Students who successfully complete the associate degree program for medical assistants will be eligible to sit for the Certified Medical Assistant (CMA AAMA) examination.
ACCREDITATION
The Arkansas Tech University Medical Assisting Program is accredited by the Commission on Accreditation of Allied Health Education Programs (www.caahep.org) upon the recommendation of Medical Assistant Education Review Board (MAERB). Commission on Accreditation of Allied Health Education Programs, 25400 US Highway 19 North, Suite 158, Clearwater, FL 33763: phone: (727) 210-2350; website: www.caahep.org.
Students who are pursuing a program of study where admission is limited (Cardiovascular Technology, Cosmetology, Medical Assistant, Occupational Therapy Assistant, Physical Therapist Assistant, Practical Nursing and Registered Nursing), will be assigned a major of Associate of General Studies until admitted into their selected program.
MEDICAL ASSISTING AT ATU-OZARK
Graduates of the Medical Assisting program at Arkansas Tech University-Ozark Campus are satisfied with the education they receive at Arkansas Tech University-Ozark Campus, as evidenced by an average 100% graduate satisfaction rate. This is further evidenced by an exam pass rate for 2017 graduates of 92.86% and a job placement rate for 2018 graduates of 91.67%.
CONTACT
(479) 508-8500 ext. 6503
alliedhealth@atu.edu
Program faculty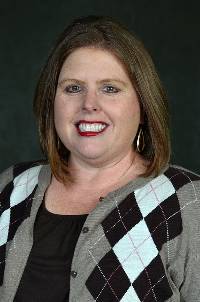 Melinda Rhynes
Program Chair
Morton Hall
1700 West C Street
Russellville, AR 72801
(479) 508-8500 ext. 6102
mrhynes@atu.edu