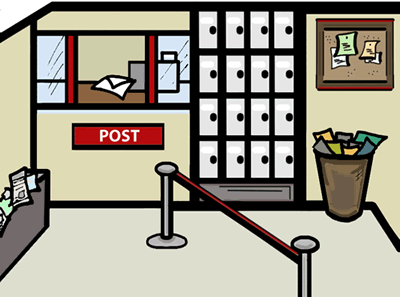 Your on-campus address should follow this format.
Your Name
1711 Coliseum Drive MSC (Box Number)
Russellville, AR 72801
For anymore information on this move, please contact the Post Office at (479)-968-0254. Thank you.
The University Campus Post Office is located at 1711 Coliseum Drive and is your on campus connection for postal services including:
Stamps
Priority, media, express and International mail (packages excluded)
Collection and distribution of internal mail across campus.
operating hours
7:30 - 4:00 Monday-Friday
Phone: (479) 880-4236 | (479) 968-0254
1711 Coliseum Drive
Russellville, Ar. 72801
---
FORWARDING STUDENT MAIL FROM ATU
STUDENT MAIL FORWARDING REQUEST
reserve A Post office box - $15 per semester
If you live in campus housing, the Post Office box fee is automatically included in your housing contract, but you must complete a P.O. Box reservation form to obtain a P.O. box for the upcoming semester. This must be done each semester to keep your box open and your on campus delivery address active. Mail delivery is not offered to the Residence Halls. Any mail not addressed to your P.O. Box will be returned to sender.
To obtain an on campus Post Office Box (in person)
Visit the Tech Post Office in person
Fill out the Post Office Box form
Bring your Tech ID
---
Receive Mail
All mail must be addressed to a student's campus P.O. Box. Any mail addressed to a residence hall address or any other on campus address will be returned to sender.
Example Address:
Student Name
1711 Coliseum Drive, MSC (student box #)
Russellville, AR 72801
---
Send Mail
The Tech Post Office accepts cash or check only. Sorry, no cards are accepted.
The Tech Post Office is a drop-off point for:
USPS
UPS
FEDEX
International service is available for letters and flats, but international packages must be sent via the Russellville Post Office at 203 S Boston Ave.
---
Policies
WITHDRAWAL POLICY
Students withdrawing from the university must cancel their PO box with the ATU Post Office and fill out a Mail Forwarding Form. This can be done in person or online.
REFUND POLICY
If a P.O. box is not wanted for the semester, the student must contact the ATU Post Office and cancel before the refund deadline. If the student fails to contact the ATU Post Office before the refund date, the PO box rental fee for that semester will be charged.
RENEWAL POLICY
Students who remain in campus housing must renew their PO boxes every semester to keep their box open. If a student's box is closed for any reason, mail will be returned to sender unless the student has filled out an official Mail Forwarding Change of Address Form.
DEPARTMENTAL MAIL
Please bring your mail to the Post Office by 3:30 in order to assure it is here in time to go out with our daily delivery to the main Post Office. Anything brought to the Post Office after this time will go out with the next day's mail.
If your office does not want carriers (UPS, FedEx, etc.) to bring packages to your specific location, the procedure is to list the name of the person who ordered the item and provide the post office address for delivery. An example would be as follows:
Jane Doe
ATU Post Office
1711 Coliseum Drive
Russellville, Ar 72801
Please check your mail at least once a week. The high volume of mail coming to the Post Office does not allow us to contact each office to inform you of mail to pick up. There is also very limited space for storage, so if you placed an order to be delivered to the Post Office, please track the order and pick up when delivered.
*Mail service will continue as pick-up only
*No delivery service will be provided
When using the Post Office charge slip below, please make sure it has a signature and INDEX code.