While CEAO is an initiative of ATU Academic Affairs, it is structured in a way such that it can serve as a hub for collaboration between three key components: Campus Life, Community and Faculty.
---
Director
Julie Mikles-Schluterman Ph.D.
Dr. Mikles-Schluterman serves as CEAO's director and is advised by board members from 1) Campus LIfe, 2) Community, and 3) Faculty.
Campus Life Liaisons
made up of two Campus Life representatives
will receive training in civic engagement pedagogy, practices, and other high-impact teaching practices
will serve as liaison between happenings of Campus Life and CEAO
will advance Campus Compact initiatives
Community Advisory Board
made up of community members
will serve as liaison between local community and CEAO
will advance Campus Compact initiatives
Faculty Liaisons
made up of a faculty member from each college
will receive training in civic engagement pedagogy, practices, and other high-impact teaching practices
will serve as liaison between faculty within their college and CEAO
will advance Campus Compact initiatives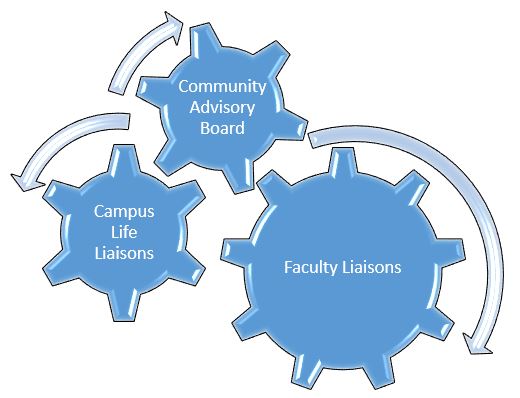 ---

Community advisory board
Bob Dickson (ATU alum)
Bob is a retired distribution executive. He grew upon a farm in rural Yell County and attended Arkansas Tech in 1964 on an athletic scholarship. He graduated from Tech in 1968 with a major in mathematics. He also attended the University of Arkansas where he received a master's degree and advanced specialist degree in educational administration. Bob was the youngest high school administrator in Arkansas in 1972 when he accepted the position of high school principal in Harrison, Arkansas. In late 1977 Bob took a management position at Mass Merchandisers in Harrison. He served the company for the next 17 years as manager of merchandising, vice president of warehouse operations and in 1982 became executive vice president of marketing. During this period Mass acquired many small distribution companies, grew from $69 million to over $750 million in sales, and became a distribution system carrying over 45,000 items with warehouses in six states. Among his achievements at Mass Merchandisers was consolidation of procurement, merchandising, and marketing functions, and instillation of the first Distribution Requirements Planning system in the U.S. Mass was acquired by McKesson in 1985 and operated as a division of McKesson until sold in 1994. Bob spent the next 6 years working with Fleming Foods in Oklahoma City. At Fleming he was responsible for consolidating the warehouse and marketing functions of the one billion dollar general merchandise division from six autonomous operating divisions into a consolidated operation which served all fifty states with common programs and systems. This allowed the G. M. division to serve large chain retailers more efficiently. Bob retired when Fleming moved their corporate headquarters to Lewisville, Texas. He lives on a 400 acre operating cattle and horse farm in rural Boone County.
Contact Information: rdickson@windstream.net
Danielle Housenick
Danielle is best described as a servant leader. She is happiest when contributing to the community. Danielle is an Associate Member of Junior Auxiliary of Russellville, and current board member of the River Valley Adult Learning Alliance. Danielle has spent countless hours working with children and leaders to benefit our community. In May 2016, Danielle earned her M.S. in English from Arkansas Tech University. Currently, she is the Executive Director at Main Street Russellville. When not working, Danielle can be found reading, writing, knitting, or watching Harry Potter movies with her two daughters and husband, who teaches at ATU.
Contact Information: mainstreetrussellvillear@gmail.com
JW Stratton
Contact Information: jwstratton@shelterinsurance.com
James A. Streett
Streett Law Firm, P.A.
Contact Information: james@streettlaw.com
Christie Graham
Executive Director of Russellville Tourism and Visitors Center
Contact Information: cgraham@discoverrussellville.org
---

Campus LIfe Liaisons
Kara Johnson
Kara Johnson received her Master of Science in College Student Personnel from Arkansas Tech University in May 2016. She currently works as the Coordinator of Civic Engagement in the Department of Campus Life at ATU. Her office focuses on creating programs and opportunities for students to connect with communities either locally or globally through volunteer and/or governmental experiences.
Contact Information: kjohnson40@atu.edu
---

Faculty liaisons
David Waterson, Ph.D.
Dr. David Waterson is a Senior IT Programmer/Analyst for the Office of Information Systems at ATU. He has an education background in Computer Science, Information Systems, and Information Technology. David continues to provide technical development, support, and education in his current role while participating in various departmental project liaison and sponsor roles here at ATU. He enjoys collaborating on large scale projects and development with a focus on technology integration. David has previous work experience in software development, networking, audio/video processing, telemetry, and has worked for several years in the nuclear industry.
Bryan Rank Ph.D.
Dr. Bryan Rank is an associate professor of Agricultural Education in the Department of Agriculture at Arkansas Tech University. He received his B.S. in Agribusiness from Oklahoma Panhandle State University and his M.S. and Ph.D. from Iowa State University. His research is focused on experiential learning theory as it relates to how students make meaning of field experiences. He has co-authored four referred journal articles in the area of study over the past two years. Prior to coming to ATU, he served as a postdoctoral associate at Iowa State where he was the Early Field Experience Coordinator for the Department of Agricultural Education and Studies in addition to teaching graduate and undergraduate courses in Agricultural Education and Communications.
Douglas Barron Ph.D.
Dr. Douglas Barron became an Assistant Professor in the Department of Biological Sciences in 2015. He obtained his B.S. in Biology from Louisiana State University, M.S. in Ecology, Evolution, and Conservation Biology from the University of Illinois, and Ph.D. in Zoology from Washington State University. His research focuses primarily on wild songbirds and aims to elucidate the physiological causes and evolutionary consequences of individual variation in behavior. He currently enjoys working with ATU undergraduate students to investigate the effects of bird feeders on avian ecology. As a broadly trained ecologist he teaches courses in ecology and environmental science.
Haiyan Wang Ph.D.
Dr. Haiyan Wang is an assistant professor of Agriculture Economics in the Agriculture Department at Arkansas Tech University since August 2017. She received her Ph.D. in Agriculture and Applied Economics with a minor in Business Statistics at Texas Tech University. Her primary research interests are agricultural trade and policy, price and demand analysis, and health economics. Currently, she teaches agribusiness management, agricultural policy, farm management, and principles of agricultural microeconomics and macroeconomics.
Jeremy Schwehm Ph.D.
Dr. Jeremy Schwehm, an associate professor or professional studies, began teaching at Arkansas Tech University in 2012. He holds a B.A. in Psychology from Louisiana State University, a M.A. in Adult Education from Northwestern State, and a Ph.D. in Adult Education with a focus on Organizational Development from the University of Georgia. Dr. Schwehm's teaching and research focus on academic and social aspects of adult learning, learning in organizations, leadership, and community development. Through his course on community development, students have engaged in 2000+ service hours in communities across the state. Dr. Schwehm has published multiple peer-reviewed articles and presented at national conferences on a range of topics, including the academic and social adjustment of adult learners, post-traumatic learning and leadership, learning outcome achievement of adult learners engaged in face-to-face and online service-learning, affective commitment of nonprofit boards and the experiences of faculty of color teaching in the online environment.
Megan Toland
Megan Toland joined ATU as an Adjunct Journalism Instructor in 2012. She served as a Visiting Instructor for the 2013-14 school year and was promoted to Assistant Professor of Journalism in 2014. She was previously an Adjunct Communication Instructor at University of Ozarks for four years. She graduated from ATU in 2006 with a B. A. in Broadcast Journalism, and then continued at Tech for her M. A. in Multi-Media Journalism. She has held numerous roles in the local business community, most recently as the Marketing Director for the Russellville Area Chamber of Commerce. She is excited to bring those real-world experiences into the classroom to better prepare students. In 2017 she worked with three other faculty members on an interdisciplinary project where they partnered with high school students across the state to help provide temporary shelter for those who are homeless. She is currently working with a Communication professor to research what health issues are important to the River Valley community and to measure the effectiveness of health campaigns and events. She is the faculty advisor for SPJ (Society of Professional Journalists), serves on a variety of committees on campus, is an active member of Connect Church and has been a Big Sister in the Big Brothers Big Sisters mentoring program for the last eight years.
Tracy Cole J.D.
Tracy Cole, J.D., Associate Professor of Legal Studies. Professor Cole joined Arkansas Tech University in the fall of 2007. She holds a B.S. in Education and an M.Ed. in Rehabilitation Education, both from the University of Arkansas, and a J.D. from the University of Arkansas at Little Rock William H. Bowen School of Law. After completing her J.D., Professor Cole passed the Arkansas Bar Exam and worked as an attorney for three years, and she still maintains her license to practice law. Professor Cole received the ATU College of Business Excellence in Teaching Award in both 2010 and 2016, and she received the ATU Faculty Award of Excellence for Teaching in 2017. She has engaged in a wide variety of service activities, both at ATU and in the local community, such as volunteering at Neighbor's Table Food Assistance program, acting as faculty advisor to the ATU Enactus student organization, planning and leading Study Abroad programs, mentoring students in the Bridge to Excellence program, and serving as a judge in mock trial, moot court, and business competitions for high school and college students. Professor Cole is also currently the Interim Department Head of Accounting and Economics and a member of Leadership Tech Cohort 3.