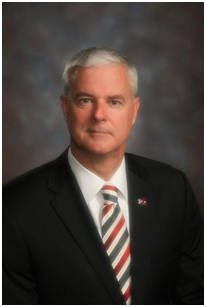 Congressman Steve A. Womack (U.S. Army Colonel Retired)
Congressman Stephen A. Womack, 53, is a native of Russellville, Arkansas. After starting school in Moberly, Missouri, Womack's family moved to Russellville in 1973. He graduated from Russellville High School in 1975. In 1979, Womack received his bachelors degree from Arkansas Tech University and was commissioned a second lieutenant in the Arkansas Army National Guard.
In the fall of 1979, Womack relocated to Rogers where he and his father established KURM Radio. Womack managed KURM from 1979-1990. In August of 1990, Womack accepted an assignment with the Army National Guard at the University of Arkansas. Womack served as the executive officer of the U.S. Army ROTC program at the U of A from 1990-1996.
After a brief return to broadcasting in 1996, Womack was hired by Merrill Lynch in Rogers where he became a financial consultant in the spring of 1997.
On November 3, 1998, Womack was elected Mayor of Rogers where he held the office until his run for Congress in 2010.
In the Army, Womack served in a variety of command and staff positions with the Arkansas Army National Guard including platoon leader, troop commander, battalion commander, and regimental commander.
Following the tragic events of September 11, 2001, while commanding 2nd Battalion, 153rd Infantry Regiment of Arkansas 39th Infantry Brigade, his unit was called to active duty for service with the Multinational Force and Observers (MFO), Sinai, Egypt. His task force was trained at Fort Carson, Colorado and deployed overseas in January 2002. On 13 January 2002, TF 2-153 became the first pure National Guard unit to receive the mission as the United States Battalion (US BATT) in the MFO. It also marked the first time in the 35-year history of the 39th Brigade that a battalion was mobilized for overseas duty.
Womack retired with over thirty years of service from the Arkansas Army National Guard October 31, 2009 at the rank of Colonel. Prior to his retirement, he commanded the 233rd Regiment, Arkansas Regional Training Institute.
His military decorations include:
Legion of Merit
Meritorious Service Medal with oak leaf cluster
Army Commendation Medal
Army Achievement Medal
Global War on Terror Expeditionary and Service Medals
The Congressman is married to the former Terri Williams of DeWitt, Arkansas and they have three grown sons.