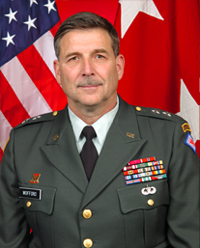 Major General William D. Wofford (U.S. Army Retired)
Major General Wofford began his military career when he was commissioned a Second Lieutenant, Field Artillery, upon graduation from the Reserve Officer Training Corps program at Arkansas Tech University, Russellville, Arkansas on May 15, 1971. After completion of the Field Artillery Officer Basic Course at Fort Sill, Oklahoma, Major General Wofford served on active duty with the 82nd Airborne Division and the 1st Armored Division until he returned to Arkansas where he joined the Arkansas Army National Guard in December 1975.
Throughout his career, Major General Wofford served in a variety of command and staff assignments. He commanded 2nd Battalion, 142nd Field Artillery, headquartered at Fort Smith, Arkansas, during Operation Desert Storm. His staff assignments culminated with his appointment as Chief of Staff of the Arkansas Army National Guard. He then commanded the Arkansas Army National Guard and received his federal recognition as a Brigadier General. He assumed the duties as the Deputy Commanding General (Reserve Component), U.S. Army Forces Command, Fort McPherson, Georgia, in August 2004, and received federal recognition as a Major General.
Major General Wofford graduated from Arkansas Tech University in 1971. He graduated from the Army War College in 1994. Additionally, he graduated from the Kennedy School of Governments Black Sea Region Security Program at Harvard University in 2002 and the Maxwell School of Citizenships National Security Leadership Course at Syracuse University in 2006.
Major General Wofford was appointed as The Adjutant General, Arkansas National Guard, on February 16, 2007 and served that position until his retirement in 2014.
Major General Wofford and his wife, Jan, live in Central Arkansas and have two sons.