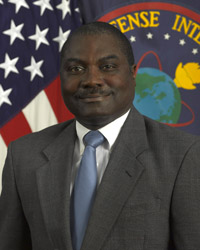 Colonel Dalton R. Jones (U.S. Army Retired)
Senior Biometrics Executive
Office Under Secretary of Defense for Intelligence
Mr. Dalton R. Jones was appointed Senior Biometrics Executive for the Under Secretary of Defense for Intelligence in August 2009. He is responsible for oversight of all Department of Defense Intelligence Component initiative and activities related to biometrics and forensic intelligence.
A career intelligence professional with over 29 year of combined civilian and military experience, Mr. Jones previously served for three years as Senior Civilian and Technical Director for the United Stars Coast Guard, Intelligence Coordination Center (ICC). The ICC is the national level coordinator for collection, analysis, production and dissemination of Coast Guard intelligence. The ICC provides all-source, tailored, and integrated intelligence and intelligence services to the Department of homeland Security, U.S. Coast Guard Commandant and Staff, intelligence Community, Combatant Commanders, and other services and agencies.
Mr. Jones retired from the U.S. Army in July 2006 as a career Army Military Intelligence Officer achieving the rank of Colonel. His military career spanned 26 years in various intelligence and operational assignments at the national level, joint commands, and Army units worldwide.
During his military career Mr. Jones was assigned Company Commander, 3rd Battalion, 112th Military Intelligence Brigade, at Goodfellow Air Force Base, Texas (1984-1986) followed by an overseas tour as Deputy G2, 2nd Infantry Division, Camp Casey, Korea (1987- 1988). From 1988-1990 he was S3 and Executive Office for the 203rd Military Intelligence Battalion, Aberdeen Proving Grounds, Maryland and deployed to Dhahran, Saudi Arabia. Mr. Jones was the J2 Collection Manager and Operations Officer at Alaska Command, Elmendorf Air Force Base, Alaska from 1993-1996 and then returned to Korea as the Deputy Brigade Commander, 501st Military Intelligence Battalion at Goodfellow Air Force Base, Texas. Mr. Jones relocated to the Washington, DC area from 2000-2001, serving in the Initiatives Group, Deputy Chief of Staff, G2, in the pentagon. He then left for another overseas assignment as Deputy Chief of Staff, G2, U.S. Army Japan (2002-2003), followed by assignments as Commander, National Ground Intelligence Center (2003-2005) and G3, Intelligence and Security Command, ort Belvoir, Virginia (2005-2006).
He received a Bachelor of Arts degree in History/Political Science from Arkansas Technical University, Russellville, Arkansas in 1980 and three subsequent masters degrees: Master of Military intelligence Arts and Science from the U.S. Army Command and General Staff College, Fort Leavenworth, Kansas; Master of Science in Administration, Central Michigan University and Master of Strategic Studies, Air Command and Staff College, Maxwell Air Force Base, Alabama.
Mr. Jones military awards and decorations include:
Bronze Star Medal
Legion of Merit (1 Oak Leaf Cluster (OLC))
Defense Meritorious Service Medal (1 OLC)
Army Meritorious Service Medal (5 OLCs)
Joint Service Commendation Medal
Army Commendation Medal (3 OLCs)
Army Achievement Medal (1 OLC)
Southwest Asia Service Medal with three Bronze Stars
Kuwait Liberation Medal (Kingdom of Saudi Arabia) and Kuwait Liberation Medal (Government of Kuwait)
National Military Intelligence Associations Lieutenant Colonel Arthur D. Nicholson Award
U.S. Cost Guard Commandants Superior Achievement Award