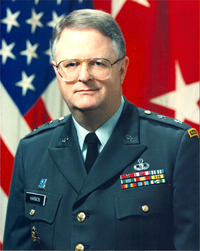 Major General William E. Harmon (U.S. Army Retired)
Bill Harmon is a 1956 graduate of Little Rock Central High School and a 1960 graduate of Arkansas Tech University where he was commissioned upon graduation in the U.S. Army Infantry. He was detailed to Military Intelligence Branch in 1962 and served in Military Intelligence for the next thirty years until retirement in 1992.
As a Company Grade Officer, he served in command and staff positions with the 101st Airborne Division; I Corps (Group) Korea; 11th Air Assault Division; JFK Center for Special Warfare; 5th Special Forces Group (Vietnam); and the 525th Military Intelligence Group (Vietnam).
As a Field Grade Officer he served in staff positions with Headquarters United States Army Pacific; Military Assistance Command Vietnam; as an Exchange Officer with the British Ministry of Defense (London); G2 2nd Armored Division; the Department of the Army Staff; and as Deputy G2 XVIII Airborne Corps. He has commanded the 203rd Military Intelligence Company (III Corps); the 522nd Military Intelligence Battalion (CEWI), 2nd Armored Division; and the 525th Military Intelligence Brigade (CEWI)(Airborne), XVIII Airborne Corps.
As a General Officer he was the Program Manager of the Joint Tactical Fusion Program Office from 1984-1990; and was the Program Executive Officer for Command and Control Systems from 1990-1992.
Bill Harmon holds a Masters Degree in International Relations from the University of Southern California, and is a graduate of the United States Army War College. He is a member of the Arkansas Tech Hall of Distinction, and the US Army Military Intelligence Hall of Fame.
His military decorations include:
Distinguished Service Medal
Legion of Merit
Bronze Star with two Oak Leaf Clusters
Meritorious Service Medal with Oak Leaf Cluster
Joint Service Commendation Medal
Army Commendation Medal
Master Parachutist Badge
Ranger Tab
Army General Staff Identification Badge.
Bill and his wife, Suzanne, reside in Russellville. They have three sons, a daughter and five Grandchildren.