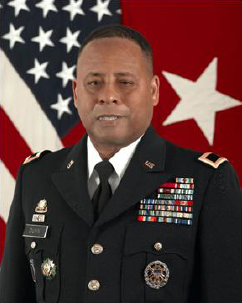 Brigadier General Gracus K. Dunn (U.S. Army Retired)
Brigadier General Dunn serves in a dual assignment as the Commanding General of the Chicago, Illinois based 85th Support Command and as the Deputy Commanding General for Support, First Army Division West, Fort Hood, Texas. Previously, he served as the Deputy Commanding General of the 377th Theater Sustainment Command based out of the Navy Joint Reserve Air Station, New Orleans, LA.
Brigadier General Dunn is a native of Little Rock, Arkansas and a 1982 graduate of Arkansas Tech University (Bachelor of Arts, Music) in Russellville, Arkansas. He is a Commissioned officer of the Transportation Corps.
He has served two tours at the Pentagon in Washington DC to include the Joint Chiefs of Staff (JCS), National Military Command Center (NMCC) as a Senior Advisor to the Director of Operations-J3, and on the Army G4 staff as Division Chief for Strategic Plans, Exercises, Concepts and Force Integrations, and as Division Chief, Logistics Operations Center as part of the Army's Operations Center.
His military education includes the Transportation Officer Basic and Advance courses Fort Eustis, Virginia; Combined Arms Staff plus Command and General Staff College, Fort Leavenworth, Kansas and a Masters of Art in Strategic Studies from the Army War College, Carlisle Barracks, Pennsylvania
Brigadier General Dunn has also served in a variety of other operational staff, joint and command assignments in the United States and overseas to include: Transportation School Brigade; followed by the 7th Transportation Group, Fort Eustis, Virginia; Garrison Headquarters operations, Fort Story, Virginia and S3-Operations, 484th Transportation Battalion, Phoenix, Arizona. Other assignments include: Movement Control Officer, Third US Army, Fort McPherson, Georgia; Contingency Plans Officer-J35, U.S. European Command (Patch Barracks), Stuttgart, Germany; Battalion Command as Post Commander, Fort Devens, Massachusetts and Brigade level Command as Commander, Combat Support Coordination Team #2 (Camp Henry), Eighth US Army in Daegu, Korea.
Contingency and operational deployments include: Mogadishu, Somalia with 10th Mountain Division/United Nations; Sarajevo, Bosnia-Herzegovina with the Italians Carabinieri Para-military Police Force/NATO; Kuwait, Saudi Arabia and Egypt with Third US Army/Army Central Command; Honduras and Panama with 7th Transportation Group.
Brigadier General Dunn's top awards and decorations includes:
Army Distinguished Service Medal
Defense Superior Service Medal (2 awards)
Legion of Merit
Defense Meritorious Service Medal
Joint Service Commendation and Achievement Medals
Army's Meritorious
Commendation and Achievement medals
Korean National Defense medal
Global War on Terrorism Service Medal
NATO Medal
Joint Chiefs of Staff and Army Staff Badges
Plus numerous other awards