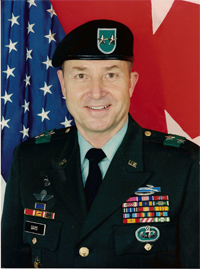 Major General Harley C. Davis (U.S. Army Retired)
General Harley C. Davis earned a Bachelor of Science degree from Arkansas Tech University and was commissioned a Lieutenant of Infantry through the Reserve Officer Training Corps. He holds a Master of Arts degree from Eastern Kentucky University and completed the Advanced Management Program at the University of New Hampshire. His military education includes the Infantry Officer Basic and Advanced Courses, the Special Forces Qualification Course, Army Command and General Staff College, and the National War College.
General Davis served in a variety of command and staff assignments including the 2d Armored Division, 1st Cavalry Division, the 101st Airborne Division, and the 5th and 10th Special Forces Groups. He served two tours in Vietnam. His first tour with the 5th Special Forces Group (Airborne) and the second was with the 101st Airborne Division and XXIV Corps. Other overseas tours include Korea and Belgium as well as numerous extended temporary assignments around the world.
From 1992 to 1995, General Davis commanded the U.S. Army Special Forces Command (Airborne), consisting of more than 10,000 soldiers. From 1989 to 1991, he served as Assistant Commandant, U.S. Army John F. Kennedy Special Warfare Center and School, directing the day to day operations of a major Army training and educational institution. As commander, 5th Special Forces Group (Airborne) he was responsible for the successful move from North Carolina to Fort Campbell, KY as well as equipping and conduct of the units successful desert warfare training prior to Desert Shield and Storm. Other key assignments included: Chief of Staff, Special Warfare Center and School; Chief, Leadership Branch, Office of the Deputy of Staff of the Army for Personnel; Commander, 3d Battalion, 5th Special Forces Group (Airborne). General Davis last assignment was to organize and establish the 5th U.S. Army's Western area; replacing the 6th U.S. Army.
General Davis awards and decorations include:
Distinguished Service Medal (with Oak Leaf Cluster)
Legion of Merit
Soldiers Medal
Bronze Star Medal (with two Oak Leaf Clusters)
Meritorious Service Medal (with four Oak Leaf Clusters)
Air Medal (with Oak Leaf Cluster)
Army Commendation Medal (with three Oak Leaf Clusters)
Combat Infantryman Badge
Master Parachutist Badge
Special Forces Tab
Ranger Tab
General Davis retired from active duty military service 1 February, 1997 with over 33 and one half years of military service to our nation. He serves as a Senior Mentor for the Joint Special Operations University, is a Director of the Green Beret Foundation and is listed in Who's Who in America. General Davis and his wife Patricia reside in Sandy Spring, Maryland.