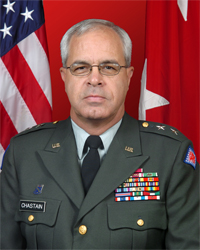 Major General Ronald S. Chastain (U.S. Army Retired)
Major General Chastain was born on October 18, 1950, in Paris, Arkansas. He graduated from Arkansas Tech University, Russellville, Arkansas, in 1972.
Major General Chastain began his military career when he was commissioned as a Second Lieutenant in the Army Reserve, upon graduation from the Reserve Officer Training Corps program at Arkansas Tech University on July 7, 1972. Throughout his career, he has served in a variety of command and staff assignments in the 142d Field Artillery Brigade, 87th Troop Command, and the 39th Infantry Brigade (Separate). He commanded the 25th Rear Area Operations Center during Desert Storm, and he commanded the 39th Brigade Combat Team during Operation Iraqi Freedom II. General Chastain assumed the duties as the Chief of Staff (Wartime), United States Forces, Korea, in October 2005, and he received federal recognition as a Major General of the Line on October 17, 2005. Major General Chastain served as the Adjutant General, Arkansas National Guard from July 15, 2006 through February 15, 2007. Major General Chastain assumed duties as Deputy Commanding General (ARNG), US Army Forces Command (FORSCOM), effective February 16, 2007 and served in this position until his retirement on October 18th, 2010.
Major General Chastain's education includes a BS Degree in Biology from Arkansas Polytechnic College in 1972 and Army War College in 1998.
Major General Chastain has received numerous awards and decorations including:
Army Distinguished Service Medal
Legion of Merit (with 1 Oak Leaf Cluster)
Bronze Star Medal (with 1 Oak Leaf Cluster)
Meritorious Service Medal (with 4 Oak Leaf Clusters)
Army Commendation Medal (with 2 Oak Leaf Clusters)
Army Achievement Medal
Army Reserve Component Achievement Medal (with Silver Oak Leaf Cluster and 1 Bronze Oak Leaf Cluster)
National Defense Service Medal (with 2 Bronze Service Stars)
Southwest Asia Service Medal (with 3 Bronze Service Stars)
Global War on Terrorism Expeditionary Medal
Global War on Terrorism Service Medal
Humanitarian Service Medal
Armed Forces Reserve Medal (with Gold Hourglass and M Device and Number 2)
Army Service Ribbon
Army Reserve Component Overseas Training Ribbon (Kuwait)
Kuwait Liberation Medal (Emirate of Kuwait)
Liberation Medal (Saudi Arabia)
Combat Action Badge.
Major General Chastain lives in Conway, Arkansas with his wife, the former Pam Berry of Dover. They have two Children: Lana and Lance.