Jerry the Bulldog: campus ambassador

The original Jerry the Bulldog was a daily part of life at Arkansas Tech in the mid-1930s. He was owned by William O. Young, who served as business manager for Arkansas Tech from 1917-41 and acted as interim president of the college from 1923-25; and his son, Robert A. Young Sr., who grew up to serve as purchasing agent, business manager, vice president for business affairs and vice president for administration for Arkansas Tech from 1941-84 and as interim president in 1972. Dr. Robert A. Young Jr. has continued his family's Tech tradition by serving as president of the Arkansas Tech Foundation and as a loyal supporter of Tech athletics.
The original Jerry spent much of his time on campus at the armory (later known as the Stroupe Building) with National Guard Battery F. The students and guardsmen there adopted Jerry as one of their own.
An article from the Feb. 26, 1936, issue of the Arka Tech student newspaper stated that Jerry was "always present at anything of importance at the armory," which was a social center of campus at that time and the site of Arkansas Tech home basketball games.
When the original Jerry passed away in late 1937, the headline in the Arka Tech proclaimed "Campus Loses Mascot in Passing of Jerry."


---

jerry Charles Young I (2013-2022)
Following the re-discovery of the story of Jerry the Bulldog, Arkansas Tech University Student Government Association cast a unanimous vote to restore the tradition and install Jerry as ATU campus ambassador during its meeting at the Doc Bryan Student Services Center on Wednesday, Oct. 23, 2013.
Jerry Charles Young I was born in Oklahoma on July 17, 2013. He was introduced to the public and took office as campus ambassador during a Homecoming Saturday ceremony in front of Williamson Hall on Oct. 26, 2013, the 103rd anniversary of the first day of class at Arkansas Tech.
Jerry Charles Young I served with distinction in the role of campus ambassador until his retirement on Oct. 1, 2022. He passed away peacefully from natural causes on Oct. 18, 2022.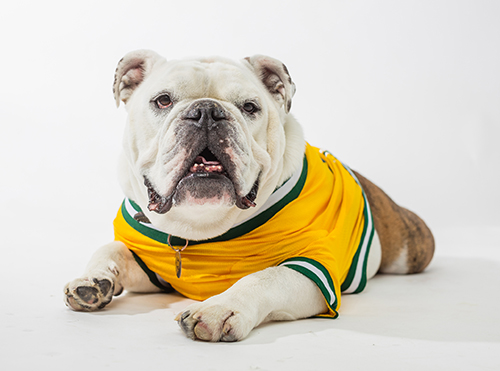 ---

Jerry Charles Young II (2022-2023)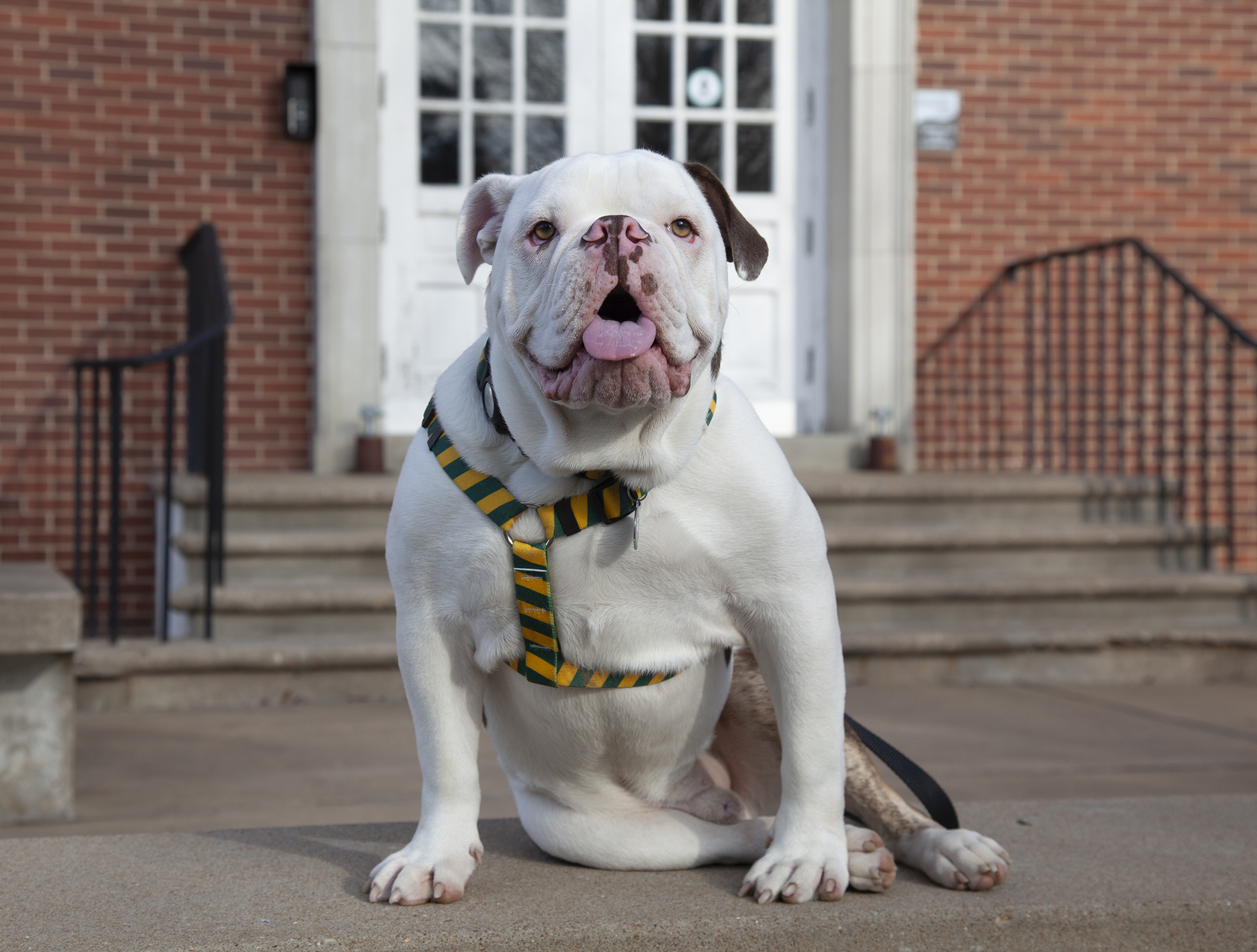 Jerry Charles Young II was born in Frankfort, Kan., on May 29, 2022. He came home to Arkansas on Aug. 6, 2022, and was introduced to the ATU community during a ceremony outside Crabaugh Hall on Saturday, Sept. 10. Jerry II served an apprenticeship under Jerry Charles Young I that continued until Saturday, Oct. 1, at which time Jerry II became ATU campus ambassador and Jerry I retired during a halftime ceremony at Thone Stadium at Buerkle Field.
Jerry II took early retirement on April 21, 2023, following the discovery of a hip condition that would have made it uncomfortable for him to fulfill the duties of campus ambassador. He lives in his native Kansas with the veterinarian who brought him into the world and her family.
---
Jerry Charles Young III (2023-Present)
Jerry Charles Young III took office as campus ambassador at Arkansas Tech University on Monday, April 24, 2023.
He succeeded his half-brother, Jerry Charles Young II, following Jerry II's retirement.
Jerry Charles Young III is an English bulldog. He was born on the day of Time Out for Tech — Feb. 23, 2023 — in Frankfort, Kan. He was eight weeks old and weighed 9.3 pounds upon assuming the duties of ATU campus ambassador.
JERRY SAYS FIGHT ON!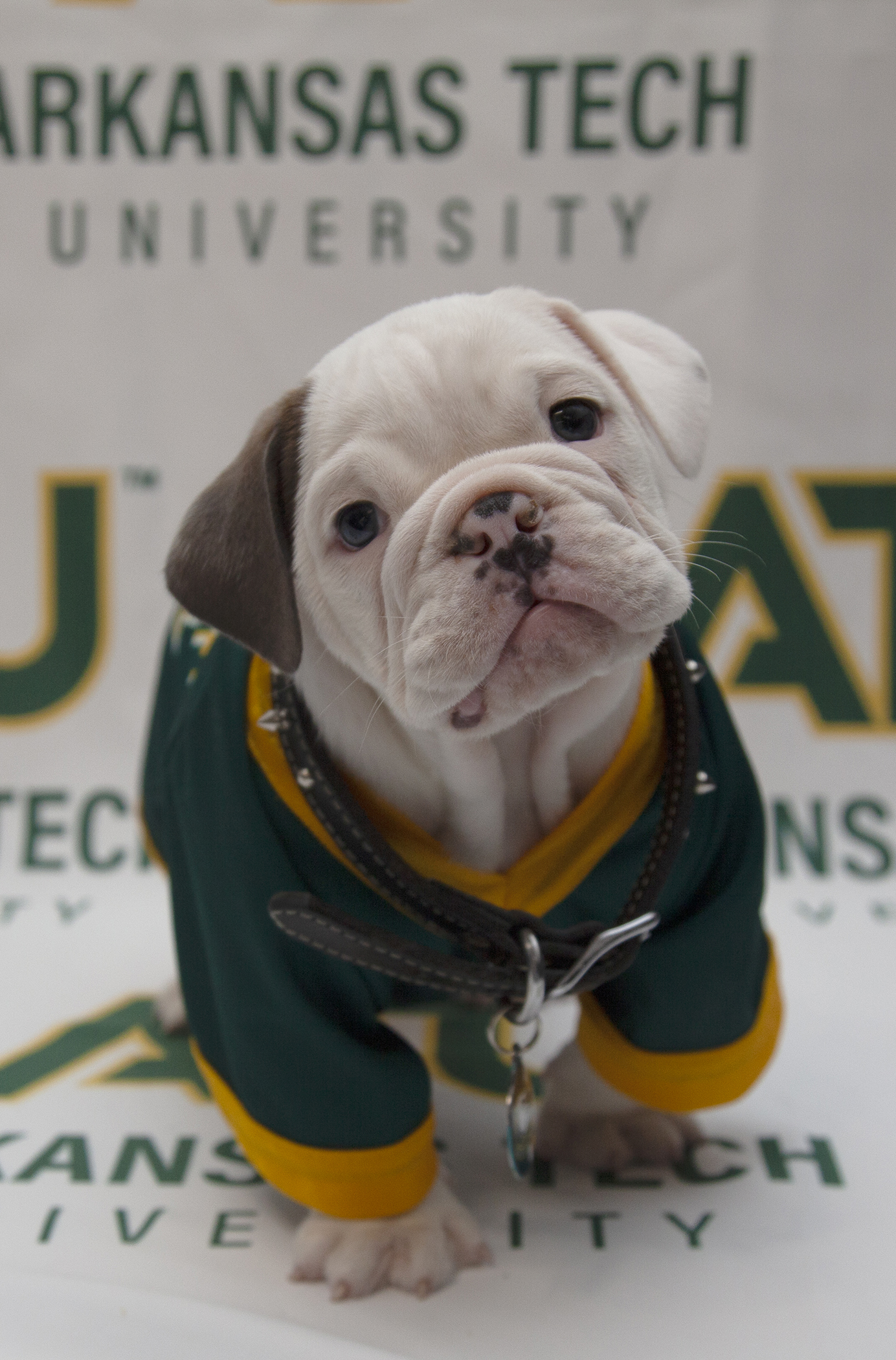 ---
Connect with jerry the bulldog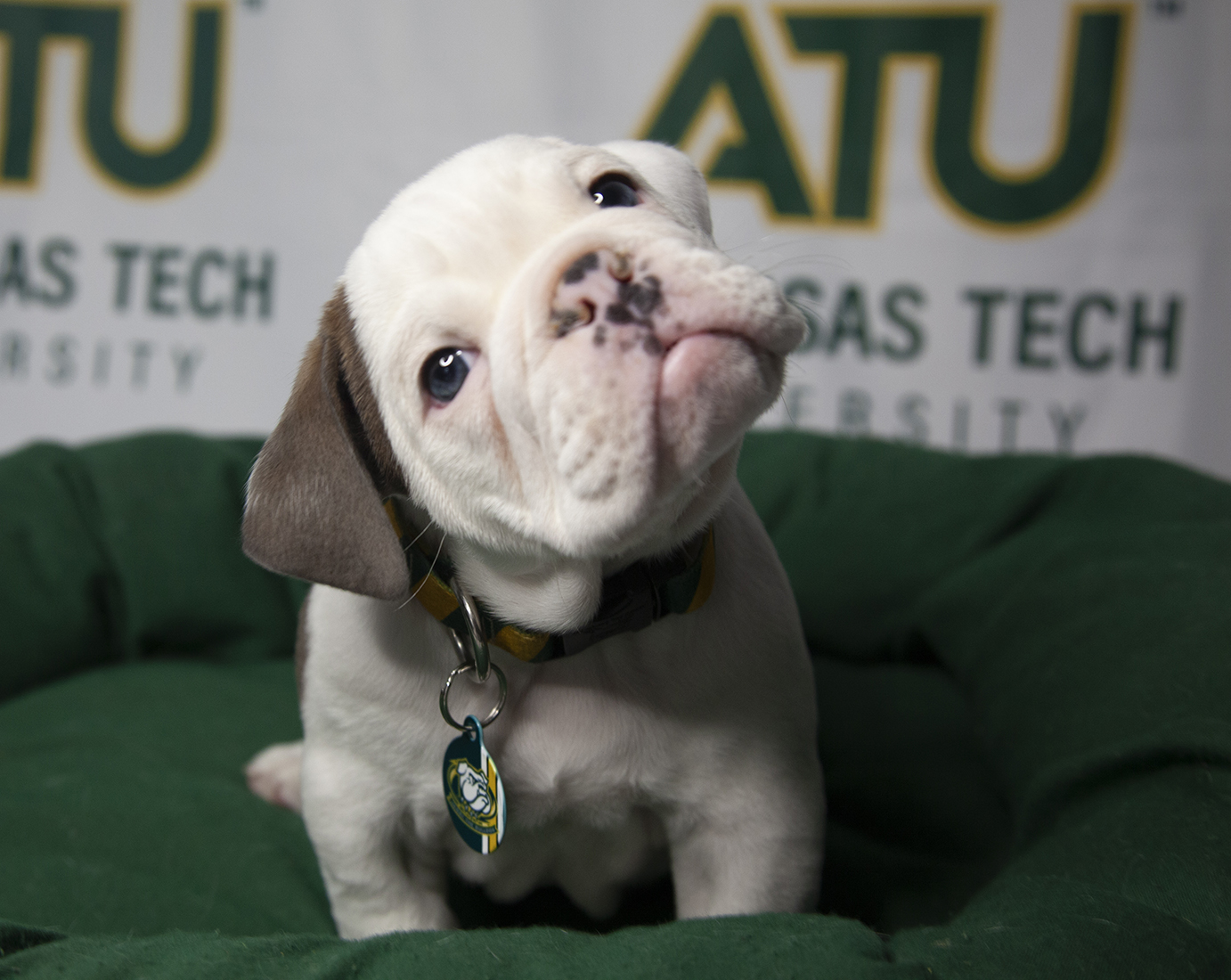 APPEARANCE REQUESTS
Since the return of the campus ambassador program in 2013, Jerry the Bulldog has reclaimed the prominent place he held in the hearts and minds of the campus community before World War II.

As a result, he makes numerous appearances on behalf of Arkansas Tech University throughout the calendar year.
Jerry will be most likely to participate in events and activities that advance the Arkansas Tech University mission, including the following:
High-profile university events (such as prospective student events, including Saturday Showcase and Time Out for Tech) and alumni/donor events).
Events requested by the Office of the President.
ATU athletics events, including home football and basketball games.
University spirit events including pep rallies and Homecoming.
Jerry welcomes invitations to attend additional events. All requests must be submitted at least 14 days in advance via e-mail to hstrasner@atu.edu.


TRAVEL GUIDELINES
All travel arrangements for Jerry the Bulldog are handled by his primary caretaker. Jerry must be accompanied at all times by a member of his staff.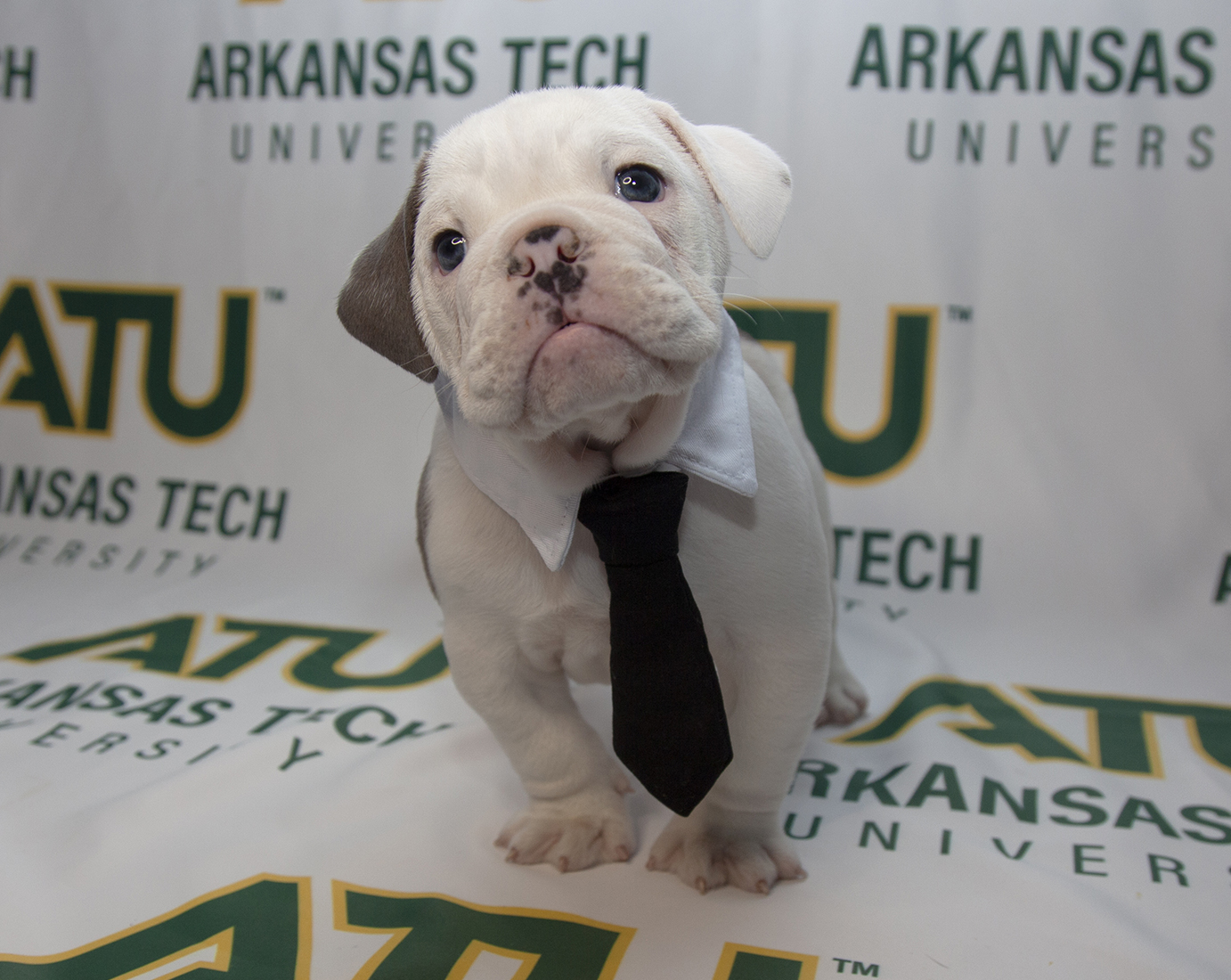 Follow Jerry on Social media
Jerry the Bulldog maintains a presence on Instagram and Facebook to provide members of the Arkansas Tech University community and beyond
with a way to engage in his daily activities and remain connected
to the campus ambassador.
Follow Jerry at:
www.instagram.com/arkansastechjerry
www.facebook.com/arkansastechjerry