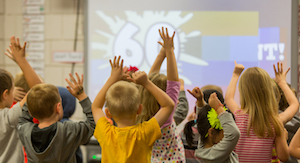 English for Speakers of Other Languages
Arkansas Tech University has been selected by the Arkansas Department of Education to offer an ESOL Institute in 2020-2021. Due to the pandemic, Tech has altered its plans. We will offer four online workshops from June 8-12. In addition to the four-day summer session participants will attend six follow-up workshops on the russellville campus during the 2020-2021 academic year and complete online work. The follow-up sessions are scheduled for September 12, September 26, October 10, and November 14, 2020, and January 16 and February 14, 2021.Successful completion of these workshops and online modules will earn participants an Arkansas Department of Education Professional Development Certificate in ESOL. Participants who choose to pay reduced tuition can earn twelve graduate hours of credit that will partially fulfill requirements for an ESL endorsement. To have the endorsement added to their licenses, teachers also need to earn a passing score on ESL Praxis 5362.
You may use the link below to apply for the 2020-2021 Arkansas Tech University ESOL Institute. The deadline for submissions has been extended tro May 15, 2020..


The ESOL Institute will give teachers the opportunity to earn twelve hours of graduate credit. Teachers who pay tuition and fees and complete Arkansas Tech's ESOL Institute will earn credit for the following endorsement courses:
TESL 5023 Second Language Acquisition
TESL 5703 Teaching English as a Second Language
TESL 5713 ESL Assessment
TESL 5723 Teaching People of Other Cultures
Further information on Tech's M.A. in TESOL may be found at https://www.atu.edu/worldlanguages/ma_tesol.php.