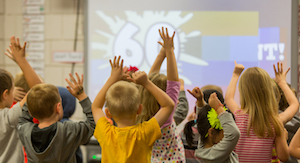 English for Speakers of Other Languages
ADE'S ESOL INSTITUtE ANNOUNCEMENT
Arkansas Tech University has received a grant from the Arkansas Department of Education to offer an ESOL Institute in 2022-2023 that will feature nationally recognized TESOL scholars and teachers such as Drs. Keith Folse, Elena Izquierdo, and Lynda Franco. We will offer six-day in-person training from June 6-11, 2022 and four-day online training during the 2022-2023 academic year (The online sessions are tentatively scheduled for October 8, 2022; October 22, 2022; January 7, 2023; and February 4, 2023). Successful completion of the ten-day (80 hours) training and assignments via four online courses will earn participants twelve graduate hours of credit that will partially fulfill requirements for an ESL endorsement.
The entire cost of tuition, materials, and the one attempt Praxis 5362 examination will be covered by the ADE's grant. Participants will be responsible for a $40 application fee.
Please note that the program will cover lodging and food for the in-person training days/June 6-June 11:
--Lodging on campus from June 5 to June 11 can be arranged, and here is more information and a 360 tour: A single room at Paine Hall (very close to the presentation site/Ross Pendercraft Library).
--From June 6-June 11, we will offer breakfast, lunch, and two snacks/coffee (mid-morning and mid-afternoon).
HOW TO BE CONSIDERED FOR ADMISSION
To be considered for admission to the 2022-2023 Arkansas Tech University ESOL Institute, please first complete and submit the online Arkansas ESOL Institute Application (through ADE) where we gather basic demographic information, teaching position, etc. as well as indicating your preferred site(s). You will receive an email confirming upon submission. All applications received by the priority deadline of April 15, 2022, will be considered first (applications received after that date will be considered first-come/first-serve and/or put on a waiting list). If you have questions about completing this application, please contact Erika Regier at Erika.Regier@ade.arkansas.gov, or at 479-267-7450, ext. 336.
Initial acceptance letters will be emailed April 22, 2022, and participants will be referred to their assigned site director to complete registration with their university. If you are assigned to participate at ATU ESOL institute, you will be given instruction via email to apply for admission to ATU's Graduate College. Please complete the application process following directions provided in the acceptance letter. Payment of a small registration fee will be due at that time. Prompt response is required.
If you have questions about ATU ESOL institute or its admission, please contact Dr. Hsu at chsu5@atu.edu.
Teachers who complete Arkansas Tech's ESOL Institute will earn credit for the following endorsement courses:
TESL 5023 Second Language Acquisition
TESL 5703 Teaching English as a Second Language
TESL 5713 ESL Assessment
TESL 5723 Teaching People of Other Cultures
These courses fulfill twelve of the thirty hours required for Tech's M.A. TESOL degree. Further information regarding our M.A. in TESOL may be found at https://www.atu.edu/degrees/graduate/tesol.php.