Automotive
Technology
Automotive Technology is a two-year program that provides hands-on training and related information to repair today's high technology vehicles.It prepares students for employment in dealerships, specialty shops and service centers. Students train on "live projects," as well as trainer units provided by the school.
The laboratory is well equipped and uses the latest computerized diagnostic equipment, tools and procedures.Major areas of study include the following: brakes, steering and suspension, electrical systems and engine performance.The program recently has been certified by the National Automotive Technician Educational Foundation (NATEF).
Students finishing the two-year program at the Arkansas Tech University Career Center obtain positions in the River Valley area at a beginning salary of $8.50 per hour. Within a few months, most are making $12 or more per hour. With experience and further education, employees in the automotive technology field make $21-$25 per hour.
Students participate in the SkillsUSA and Ford AAA competitions. The Ford AAA competition allows students to compete for job opportunities, scholarships, tool purchase programs and awards.Students who complete this program of study offered at the Career Center may receive a Certificate of Proficiency in automotive service technology.
Faculty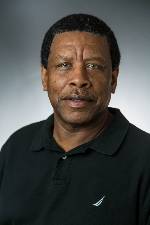 Bennie Byrd
bbyrd2@atu.edu