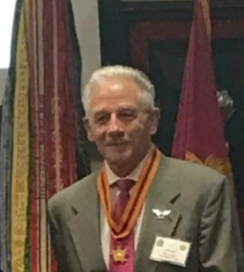 LTC Bill Sidebottom (United States Army, Retired)
LTC William Jerome (Bill) Sidebottom is a native of Fountain Lake, a 1963 graduate of Hot Springs High School, and a 196 7 Distinguished Military Graduate from Arkansas Tech University. As a LT /CPT he volunteered for two combat tours in Vietnam, 1968-1969 and 1971-1972. He served his first tour as an Armored Calvary platoon leader in the 11th Armored Cavalry Regiment, F Troop, 2d Squadron. On February 17, 1969, while conducting reconnaissance operations near the Cambodian border, he discovered a North Vietnamese Army basecamp. While conducting a ground sweep of the area with a small dismounted patrol his unit was ambushed. For actions during this engagement he was awarded the Silver Star, of which a partial citation follows:
"Small force was hit with small arms, automatic weapons, rocket-­propelled grenade fire and anti-personnel mines, seriously wounding several of his troops. As he directed his men back to their armored vehicles, he noticed that one of his men could not walk because of leg wounds. Disregarding the hostile fire, he carried the casualty to a medic. After calling in artillery and gunship strikes, he returned to the contact area and discovered two more casualties, whom he evacuated to safety. Learning that three more men were still deep in the base camp he raced back into the contested area. Suddenly several grenades exploded nearby seriously wounding him. Despite his wounds he helped the three men, including one wounded, back to the safety of there armored vehicles. He then called in evacuation helicopters and adjusted artillery fire and airstrikes on the enemy base camp."
Following his first tour CPT Sidebottom attended helicopter flight school in 1970. Upon graduation he volunteered for flight duty in Vietnam, where he flew CH-47 Chinook helicopters in support of the 101st Airborne Division in northern South Vietnam and Laos. During his tours in Vietnam, in addition to the Silver Star, he was also awarded four Purple Hearts, a Bronze Star, the Vietnamese Cross of Gallantry and 14 Air Medals. After retiring from the U.S. Army in 1990, LTC Sidebottom worked in various private sector positions ending his civilian career as SAP's Army Account Executive for Enterprise Resource Program (ERP) IT programs. In this position he was instrumental in the U.S. Army terminating hundreds of legacy and custom built IT systems transforming the Army's supply, maintenance, and financial systems to ERP applications. For his efforts in transforming the Army's logistics and financial
programs he was inducted into the U.S. Army Ordnance Corps Hall of Fame in July 2017. LTC Sidebottom was also inducted into the Arkansas Military Veterans Hall of Fame by Senator Boozman in 2015.