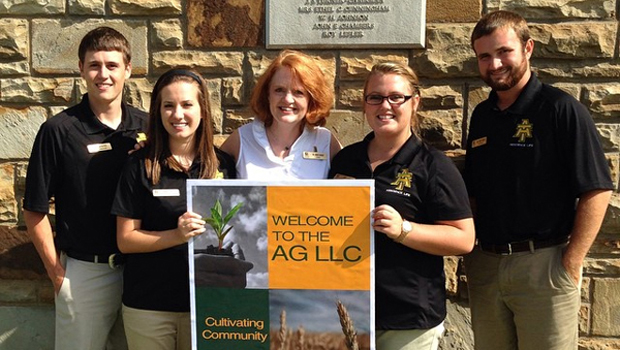 Agriculture (Ag LLC)
The Agriculture Living Learning Community opened in the fall of 2014 and is located in Hughes Hall (traditional style co-ed living by floor). Hughes Hall is a part of the Critz/Hughes/Tucker Complex, located on the west side of campus, north of the Baseball Fields. The Ag LLC helps students who are pursuing a degree in Agriculture to collaborate with Residence Life staff, peers in the program, and academic faculty to develop career furthering knowledge and capitalize on learning opportunities outside of the classroom. All Resident Assistants (RAs) in the Agriculture LLC are declared Agriculture upperclassmen in various Ag disciplines.
What to Expect

On-site faculty-led study sessions, LLC exclusive events and experiences, and department-wide functions hosted nearby (for example: Welcome Back BBQ and tailgating for sports events, including Homecoming). Experiences and support will be targeted to strengthen students' transition to college, academic success, professional growth, and development of community.
Did You Know?

Programs and functions exclusive to the LLC include Returning applicants:

Homecoming Tailgate
Welcome Back BBQ
Chili Cook Off
Thank A Farmer
Ag on the Farm
Ag Olympics
Ag LLC
Quick Facts:
Participants will be enrolled in AGED1001 (intro to Agriculture) in the fall and AGBU1001 (Intro to Ag Business) in the spring.
Location: Hughes hall first (male) and second (female) floor
Restrictions: Incoming Freshmen
Application: none
Fee: none
Roommate Policy: Roommate must be in the same major and agree to enroll in the above listed courses
Contact Information
Dr. Justin Killingsworth
Agriculture Department
Dean Hall
402 West O Street
Russellville, AR 72801
Phone: (479) 880-4230
Email: jkillingsworth2@atu.edu
X
Learn More
Fill out the form below and a member of the Admissions staff will contact you with more information about your chosen program and will help you get started if you are ready.