COLLISION REPAIR
TECHNOLOGY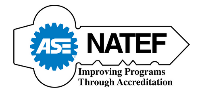 The work of the collision repair technician consists of those jobs that require knowledge of automotive construction and a relatively high degree of manual dexterity. Students enrolled in this program will become skilled in frame alignment, dent removal, replacing damaged parts, color matching, painting, and basic principles of air brushing. Students will receive instruction in solvent-based paints and in the implementation of green technology with water-borne paints.
Each student will be required to furnish their own tools as approved by the instructor.
The Collision Repair Technology program currently holds certification from the National Automotive Technicians Education Foundation (NATEF), in Painting and Refinishing. Students can take examinations and earn ASE Student Certification in this area.
Kenneth Floyd
Program Chair
Shop Complex
Technology and Academic Support Building
1700 Helberg Lane
Ozark, AR 72949
(479) 508-3312
kfloyd2@atu.edu