The Medical Assisting Exam Passage rate for 2017 was 92.86%
The Medical Assisting graduate job placement rate for 2018 was 91.67%.
March 1: CVT, PTA, LPN, MA, RN, OTA application deadline
Medical assistants perform administrative and clinical duties under the direction of physicians in their offices or other medical settings. The medical assistant curriculum is a two-year Associate of Applied Science degree program. This program offers the student a broad foundation in basic medical assisting skills including an externship (practicum) in a medical facility under the supervision of clinic personnel and the Medical Assistant Program Director. Basic medical assistant training and education consist of learning experiences in communication skills, examination room procedures, clinical laboratory skills, and general office practices.
Students who successfully complete the associate degree program for medical assistants will be eligible to sit for the Certified Medical Assistant (CMA AAMA) examination.
Accreditation
The Arkansas Tech University Medical Assisting Program is accredited by the Commission on Accreditation of Allied Health Education Programs (www.caahep.org) upon the recommendation of Medical Assistant Education Review Board (MAERB). Commission on Accreditation of Allied Health Education Programs, 25400 US Highway 19 North, Suite 158, Clearwater, FL 33763: phone: (727) 210-2350; website: www.caahep.org.
Students who are pursuing a program of study where admission is limited (Cardiovascular Technology, Cosmetology, Medical Assistant, Occupational Therapy Assistant, Physical Therapist Assistant, Practical Nursing and Registered Nursing), will be assigned a major of Associate of General Studies until admitted into their selected program.
Medical Assisting at ATU-Ozark
Graduates of the Medical Assisting program at Arkansas Tech University-Ozark Campus are satisfied with the education they receive at Arkansas Tech University-Ozark Campus, as evidenced by an average 100% graduate satisfaction rate. This is further evidenced by an exam pass rate for 2017 graduates of 92.86% and a job placement rate for 2018 graduates of 91.67%.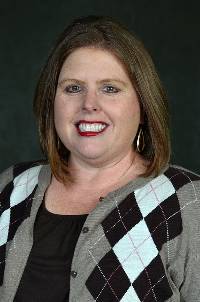 Melinda Rhynes
Program Chair
Morton Hall
1700 West C Street
Russellville, AR 72801
(479) 880-4036
mrhynes@atu.edu

Sharyl Moffit
Administrative Assistant
Health Sciences and Wellness
1700 Helberg Lane
Ozark, AR 72949
(479) 508-8500 ext. 6105
smoffit@atu.edu